Missouri Journalism Student Receives UM System Student Entrepreneur of the Year Award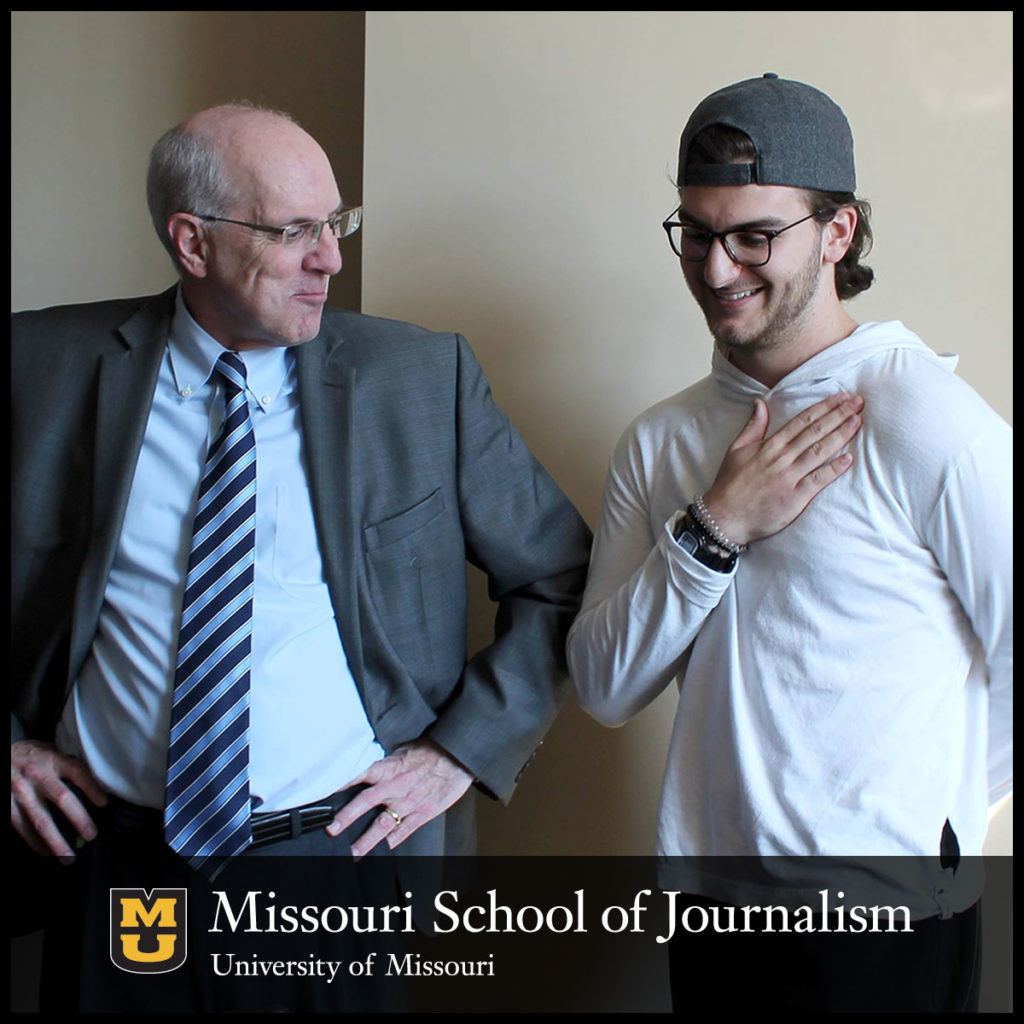 Interim Vice President for Academic Affairs, Research and Economic Development Bob Schwartz with Drew Rogers.
Award Recognizes Students with Demonstrated Innovation, Originality and Entrepreneurial Spirit
By Kelly Wiemann
UM System
Columbia, Mo. (March 25, 2017) — University of Missouri System Interim Vice President for Academic Affairs Bob Schwartz presented the Student Entrepreneur of the Year award to Drew Rogers, a pre-journalism student at the University of Missouri.
The award, which includes a $2,500 prize, recognizes students who have demonstrated innovation, originality and entrepreneurial spirit in the development of processes, products or technologies of commercial potential and/or of benefit to the UM System.
Upon receiving the surprise recognition at the MU Student Center, Rogers, who was meeting with his fellow team members was sure to acknowledge his business partner and co-founder Blaine Thomas.
"Blaine manages our finance team, oversees all finances and logistics, and helps me greatly with our company's marketing vision," Rogers said. "I am so grateful to be working alongside someone like Blaine. Without him, The Bridge wouldn't be the great success that it is today."
Rogers and Thomas, both sophomores, developed the idea for their business after surveying the entrepreneurial atmosphere on MU's campus. Sensing a need to support other aspiring entrepreneurs, Rogers and Thomas developed a retail store, The Bridge, in the student union for students to market their own products. The store generated $23,000 in sales in the first three months, bringing more than $15,000 to student creators through a consignment business model.
Several nominators wrote that Rogers encompasses the true definition of an entrepreneur, mentioning his drive, dedication and passion as well as his motivation, vision and relationship-building skills.
"As chief marketing officer, Drew has a vision for this business for now and in the future," said Heath Immel, senior associate director of the Missouri Student Unions. "He wants The Bridge to promote educational opportunities for other student entrepreneurs. Drew believes that his out-of-classroom experience has provided him with unique skills that he wants other students to have the opportunity to gain."
The unique concept for The Bridge welcomes any and all student entrepreneurs to bring their ideas and merchandise to the storefront to enhance the exposure of their products.
"This store in the MU Student Center has become the new hub for the entrepreneur community," Bea Dohoney, founder of Astronobeads, said. "Collaboration is key in The Bridge. They bring ideas from dorm desks to the storefront opening up so many opportunities for students."
"As an entrepreneur myself, I love waking up every day with the drive to help cultivate other entrepreneurs," Rogers said. "Blaine and I really wanted to help empower our fellow entrepreneurs on campus, and we started The Bridge to help meet that need. We've incentivized and empowered Mizzou to pursue their passions, risk failure and support locally-made products."
Rogers will be formally recognized by UM System President Mun Choi in June during the UM System President's Awards celebration, an annual recognition of faculty members across the four campuses of the UM System who have made exceptional contributions in advancing the mission of the university.
Updated: October 14, 2020
Related Stories
Expand All
Collapse All
---