MOJO Ad Launches Web Site
Columbia, Mo. (April 21, 2006) — MOJO Ad, the new student-staffed agency of the Missouri School of Journalism's advertising sequence, has launched its website, mojo-ad.com. The site features staff profiles, a history of the organization, information about how industry professionals can hire MOJO Ad and how students can apply to become members. Additionally, the site details MOJO Ad's capabilities, agency partnerships and case studies.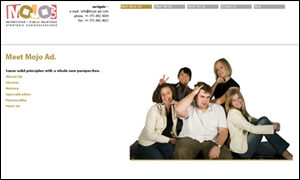 "MOJO Ad, with its focus on youth and young adult media, offers client/partners the opportunity to get inside the heads of young people who know because they are," said Margaret Duffy, chair of the sequence. "The staff is made up of top students who can provide research as well as creative executions. We believe clients will be surprised and delighted with the level of work they offer."
MOJO Ad works with local and regional businesses, advertising agencies and national advertisers. These agency partners fall into two main categories: businesses that don't have their own advertising agencies and regional or national advertising agencies that would like to utilize MOJO Ad's expertise in the youth and young adult market. According to Assistant Professor Larry Powell, mojo-ad.com will allow its visitors to meet the staff and learn how to team up on projects.
"With the launch of its website, MOJO Ad can instantly connect with students, faculty, alumni and businesses who may be interested in finding out more about the agency. Students can log on to find out what the agency is working on or to apply for positions," said Powell, the agency's chief operating officer.
MOJO Ad, founded in January of 2005, is a strategic communications firm specializing in results-focused marketing, advertising, direct response and promotions targeted to teen, college and young adult markets. Visit mojo-ad.com for more information about the agency.
Updated: April 9, 2020
Related Stories
Expand All
Collapse All
---