MOJO Ad Hosts Strategic Communication Career Fest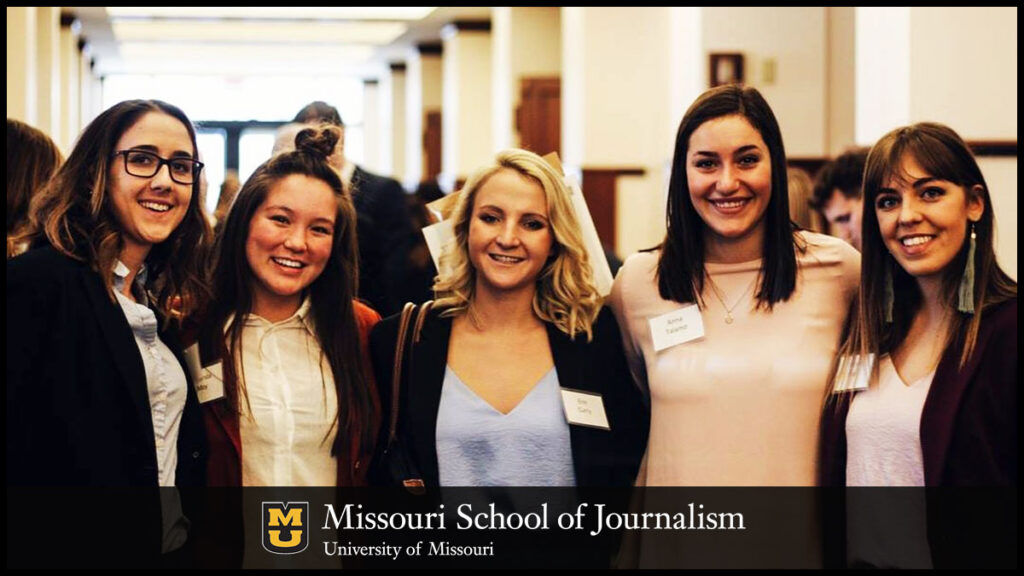 By Elizabeth Berg, Emily Pagano and Keena Patel
MOJO Ad Public Relations Account Executives
Columbia, Mo. (Feb. 26, 2018) — The Missouri School of Journalism brought students and recruiters together for a successful day of networking at the annual Strategic Communication Career Fest on Feb. 8 in the Reynolds Alumni Center. Approximately 400 junior, senior, graduate students and recent graduates of the strategic communication program met with 37 agencies and companies.
"Being a junior, this was my first time at the Career Fest. I was definitely nervous because I didn't know what to expect, but all of the info sessions and events made me feel really prepared to talk to the recruiters," said Lexie Winter, a junior in the strategic communication program. "It was exciting to get to share with them what an amazing journalism school we have and all that I've learned in my time as a strategic communication student."
Agencies and companies came from across the country to meet with students of the program in a variety of disciplines. Recruiters looked to fill both intern and full-time roles in account management, account planning, art direction, copywriting, corporate communications, event planning, graphic design, media planning and buying, public relations, sports promotion and video storytelling.
"As a 2003 Missouri Journalism School graduate, I was fortunate to represent Manifesto at the recent Career Fest," said Tim Dyer, managing partner and chief creative officer at Manifesto Agency. "I was thoroughly impressed by the entire student-run, student-staffed event. Since attending nearly 10 years ago, the event has multiplied in recruiting exhibitors by five to six times. The entire group of agencies and brands were impressed by the students' poise and commitment to research-driven methodology. One particular highlight was a student presentation around the State of the YAYA, better known as the elusive 18- to-24-year-olds so many brands are seeking to engage."
The night before the Career Fest, attendees participated in a Meet and Greet networking event where students got a chance to chat with recruiters in a laid back environment. Students and recruiters alike were encouraged to wear a band or graphic T-shirt and jeans to promote a relaxed atmosphere.
"As a Mizzou alum in the advertising industry, the Mizzou Strategic Communication Career Fest was such a blessing to attend. Every time I interact with Mizzou strat comm students I'm reminded of what drew me to Mizzou in the first place," said Kate Moore, recruiting manager at Barkley in Kansas City, Missouri. "Meeting with fellow Tigers ensures my confidence that anyone that goes through this program will find an amazing home in the industry."
Recruiters had the opportunity to listen to the annual State of the YAYA report put together by MOJO Ad staff. The annual research study provides insight into the lifestyle, opinions and motivations of 18- to 24-year-olds. The State of the YAYA Report will be released on the webcast on Facebook Live on Feb. 27 at 11 a.m.
About MOJO Ad
MOJO Ad is the premiere student-staffed professional advertising agency in the Missouri School of Journalism. The Career Fest is entirely planned and executed by MOJO Ad staff. For more information about MOJO Ad, please visit mojo-ad.com.
Updated: October 28, 2020
Related Stories
Expand All
Collapse All
---