Strategic Communication student Cullen Ecoffey gains video experience and perspective during summer trip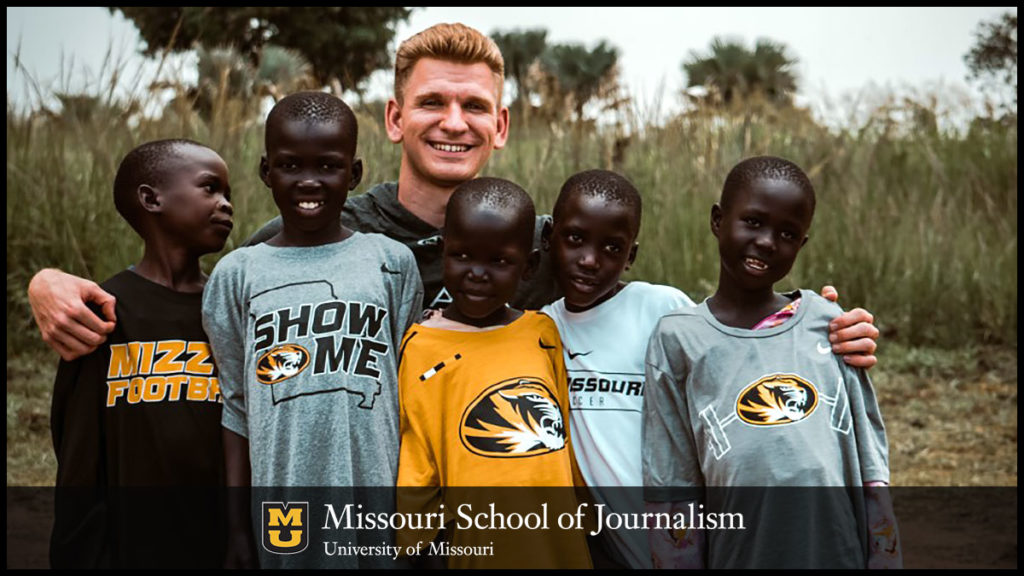 By Jerry Duggan
Strategic Communication Student
When Strategic Communication student Cullen Ecoffey, a senior from Mason, Ohio, signed up for a summer service trip to Uganda it was only supposed to be for 12 days. However, those 12 days quickly morphed into the entire summer as he seized an opportunity to grow both personally and professionally.
Ecoffey's trip to Uganda originally came about as part of his work for the MU Athletic Department where he's created video content for the women's basketball team the last three years. Through this, Ecoffey became part of an organization called Managers on a Mission, a group that offers student athletes, team managers and staff members the chance to participate in philanthropic activities, such as the mission trip to Uganda.
The original plan was for Ecoffey to lead sports camps for children while in Uganda and then he would figure out something to do for the rest of the summer when he returned. As summer neared, he had a bit of an epiphany. Through a series of fortunate and random connections from the J-School, family and friends, Ecoffey was able to extend his stay in Africa for an additional two months following the completion of his Managers on a Mission trip.
For the bulk of his extended stay in Africa, Ecoffey lived in a camp for refugee children, where he did freelance video work that focused on telling the children's stories and how they live their lives. The experience was an adjustment at first, but Ecoffey says any difficulties he encountered made it all the more rewarding.
"It was definitely a struggle in the beginning getting used to a new way of life, and not having so many of the luxuries that I'm used to at home," he said. "But, that just made me appreciate the people around me more, seeing how joyful they were."
To help cover some of his expenses, Ecoffey did freelance work throughout the trip, such as creating video content for Heaven Boutique Hotel's tours program and the five-star hotel, The Retreat. He also visited the Kigali Genocide Memorial in Rwanda, which he called a somber experience, but something Ecoffey felt was vital to understanding the people he was working with.
At the same time, Ecoffey made sure to give back, donating his textbooks from a class he took in entrepreneurship to an aspiring entrepreneur named Ignatius, a man in Uganda who was looking to grow his own small business but needed some guidance for how to get it off the ground.
Throughout the experience, one of the main things that stuck out to Ecoffey was the authenticity of the people. "I was immediately struck by how present they are in their conversations, and how much they appreciate you coming over and spending time with them," he said. "Here, it can feel like everyone has an agenda whenever they meet with you. Over there, people just enjoy each other's company."
What made the trip a remarkable experience for Ecoffey, however, was how it was beneficial in both a personal and professional sense. He never thought it was possible to juggle the two in such a fulfilling way.
"I feel so fortunate to be able to give back to people, but at the same time, I got a lot out of the trip professionally," he said. "Most of my experience creating video content is in sports, and this was more 'slice of life' content. Also, doing freelance work and being out there without a whole lot of guidance was a totally new experience for me."
It wasn't until Ecoffey's return from the trip that he began to process it all.
"I came back and thought, "Wow, I don't deserve to have so many more opportunities than these people," he said. "For me, a healthier perspective was to understand what I have while having an appreciation for that, and then figuring out how I can help others through my privilege."
Updated: November 10, 2020
Related Stories
Expand All
Collapse All
---