Missouri School of Journalism Receives Award of Excellence from the University of Navarra in Spain
Columbia, Mo. (March 6, 2009) — The University of Navarra in Pamplona, Spain, recently awarded the Missouri School of Journalism its highest honor: the Luka Brajnovic Award for Communication.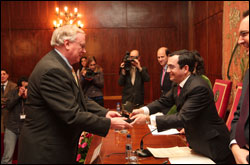 "The award was established to commemorate Luka Brajnovic – journalist, scholar and poet – one of the founding members of the School of Communication," said Teresa La Porte, former dean of the School of Communication at the University of Navarra. "The award…recognizes professional achievement and contribution of those to whom it is granted: an ethical commitment to the truth in the fields of communication, editorial activity, opinion and fiction."
The award acts as an example to inspire students and professional journalists, La Porte said. Only one award is given each year, and the Missouri School is the only institution to have received it.
Brian Brooks, associate dean for undergraduate studies and administration, and Fritz Cropp, director of international programs, traveled to Pamplona to accept the award and participate in a roundtable discussion on the challenges of university teaching during the University of Navarra's International Congress on Communication.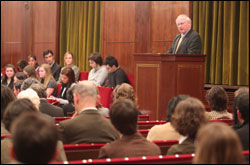 In his acceptance speech, Brooks said, "We at Missouri have high regard for the University of Navarra, so this award is particularly meaningful to us. The qualifications for this award, as listed on the University of Navarra Web site, reaffirm your faculty's belief that we at Missouri have lived up to the standards set by our visionary founder, Walter Williams."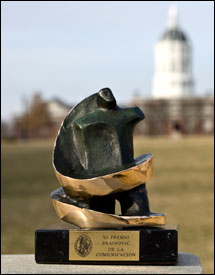 Brooks said that journalism schools, like those at Missouri and Navarra, may be able to take the lead in figuring out the profession's future.
"I am optimistic that a new generation of journalists and advertising professionals – those we are training now – can lead us out of today's difficult times and into a brighter tomorrow," Brooks said. "The world needs a free and vigorous press. Missouri intends to provide that for the United States, and I know Navarra intends to provide that for Spain. Let us join in efforts to work closely for a great future for this profession on which democracy and freedom are so dependent."
The University of Navarra was the first study-abroad partner institution of the Missouri School of Journalism. The relationship, established 20 years ago, was pioneered by Professor Phill Brooks, who has continued to work with his colleagues in Pamplona.
Updated: April 30, 2020
Related Stories
Expand All
Collapse All
---