Missouri School of Journalism Students Hone Skills at Top Media Institutions
Columbia, Mo. (Sept. 26, 2007) — For 12 weeks this past summer, going to work meant going to a baseball game for Carolyn Rauen, a senior radio-television journalism major at the Missouri School of Journalism.
As a studio production intern for ESPN, she arrived early and stayed late to transcribe play-by-play action and organize highlight reels for Baseball Tonight and SportsCenter, two of ESPN's most popular programs.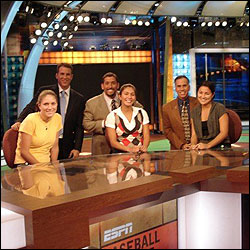 "All sports all the time was a lot of fun," said Rauen, a devoted athlete who runs for the Mizzou track and cross-country teams. "Not many people can say they've been paid to watch baseball games."
Rauen was one of dozens of Missouri Journalism students who spent the academic off-season this past summer involved in prestigious internships across the country. The work students do off campus at respected media institutions is a key element of the "Missouri Method," a proven style of instruction that emphasizes learning through hands-on experience.
"It's very important that a student has at least one internship before they graduate," said Phousavanh Sengsavanh, assistant director of career services at the School. "Having additional industry experience, plus what the journalism program provides, only makes students more adept."
Most internships are paid positions that last either eight or 10 weeks.
Senior magazine journalism major Taylor Grimes spent his summer in New York City, enjoying a position with Billboard Magazine. Within only a few days of arriving, he penned his first news piece, an article about pop phenomenon Justin Timerberlake signing a new artist to his label.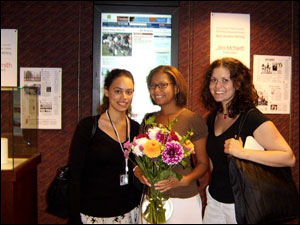 And that was only the beginning. Grimes met and interviewed numerous musicians, put together several Q&As for the magazine and wrote reviews about music singles every week. Of course, he also received perks such as free concert tickets and CDs, as well as the opportunity to meet the artists he admires.
The tangible perks of the internship, however, were not as important as the experience and the connections. Grimes said he currently is writing freelance concert reviews for Billboard, and he's planning to write a piece on the upcoming Arcade Fire concert in Kansas City.
"What I took away most is that I'm really happy with the career path I've chosen," Grimes said. "After graduation, I hope to move to New York and hopefully use the wonderful connections I've made to land a job at a music magazine."
While Grimes was meeting all the right people on the East Coast, Jacqwi Campbell, BJ '07, was on the West Coast working her way onto The Oregonian's front page. She said she averaged about two stories per week, in addition to a cover story of her own design about dreadlocked hair and racial issues for inPortland Magazine.
"Don't think because you're an intern you won't be doing anything," Campbell said. "They expect a lot from you, and they treat you just like a staff reporter."
Indeed, Campbell took on her first story for The Oregonian just a few hours after first arriving there. Subsequent stories took her all over the city, including a front page feature she wrote about a deer running loose downtown.
Senior newspaper journalism major Derek Kravitz also spent the summer at a major news organization. For his fourth internship, Kravitz worked as a state and regional correspondent for The Dallas Morning News. The highlight, he said, was the newspaper's coverage of damaging floods in north Texas.
"The paper put a lot of resources into covering that story," Kravitz said. "I was pretty much stuck in a gnarly hotel for about a week."
Nicknamed "Tater" by his colleagues at the Morning News, Kravitz said he wrote more than 30 stories this past summer, 13 of which landed on the front page.
"They give you a lot of opportunity there," he said. "The Morning News treats its interns like full-time staff."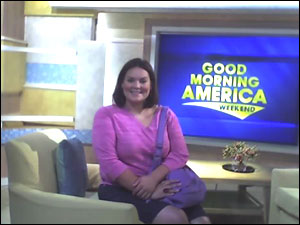 Prestigious internships aren't limited to journalism undergraduates such as Kravitz, though. Many graduate students also seize the opportunity to make connections and learn additional hands-on techniques. Radio-television journalism master's student Melissa Chee, for example, spent 10 weeks this summer as the first Charles Gibson Fellow at Good Morning America.
"The biggest highlight for me was to be there in the control room, getting to see the show put together," said Chee, who has worked at KOMU-TV and KBIA radio. "It was being able to see the difference between a local news operation and being able to see what a network news operation is like – different scale, different challenges and different roles."
Set to graduate in 2008, Chee said she is more focused than ever on attaining her goal of being a broadcast reporter or a network producer.
Updated: July 5, 2022
Related Stories
Expand All
Collapse All
---