Missouri Journalism Students Selected to Attend Economic Data Workshop in DC
Weeklong Conference Helped Build an Understanding of US Government Economic Date
Washington (Jan. 21, 2016) — Two Missouri School of Journalism graduate students and a convergence journalism senior were chosen to attend a recent weeklong conference on understanding U.S. government economic data.
The three – Zivile Raskauskaite, a master's student in broadcast journalism, Moqiu (May) Ma, a master's student in business journalism, and Siyu Lei, a senior who is a dual major in convergence journalism and economics, were chosen along with 20 professional journalists. The honor included a week's stay in Washington Jan. 11-15, visiting agencies that track the American economy, including the Bureau of Economic Analysis, the Bureau of Labor Statistics, Federal Depositary Insurance Corp. and the Census Bureau. They also received special briefings from the Council of Economic Advisers, the U.S. Federal Reserve and Investment Company Institute.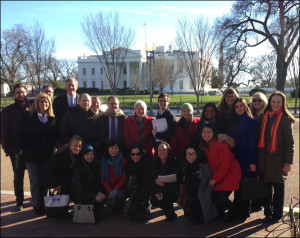 The professional journalists represented major media outlets, including the New York Times, Reuters, Bloomberg, Associated Press, Slate, Quartz and regional newspapers like the Seattle Times and Charlotte Observer. The event features conversations with data managers and journalists, as well as discussions on how to use the plethora of government data.
"This workshop should be required for all business journalists," said Angel Gonzalez, a reporter who covers major companies for the Seattle Times.
It was sponsored by the Society of American Business Editors and Writers and funded by the Walter and Karla Goldschmidt Foundation. The event is organized by Marty Steffens, a professor at the Missouri School of Journalism and the SABEW Chair in Business and Financial Journalism, who also arranged for the funding. It is the third year she has conducted the workshop, receiving a cumulative $125,000 in grants and in-kind donations for the event.
Updated: September 14, 2020
Related Stories
Expand All
Collapse All
---