Missouri School of Journalism Earns National Reaccreditation
Columbia, Mo. (May 13, 2011) — The Accrediting Council on Education in Journalism and Mass Communications unanimously voted to reaccredit the Missouri School of Journalism at the group's April 29-30 meeting in Portland, Ore.
The School was found to be in compliance with all nine standards at both the undergraduate and graduate levels.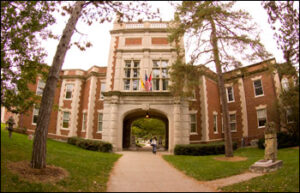 The accreditation process involves four steps. These are a self-study conducted by faculty, staff and students; a site visit of educators and professors; a recommendation by the national accrediting committee; and a final vote by the national Accrediting Council.
The site-visit team was generous in its praise of both Missouri faculty and students and their interactions inside and outside classrooms.
"Both at the graduate and undergraduate levels and across all sequences," the team wrote in its report, "students report that their expectations are exceeded regularly."
A summary statement in the team's report noted: "For more than a century, the Missouri School of Journalism has been a global leader in journalism education. While it certainly has tradition, the School also has a forward-thinking mindset that emerges in its new Strategic Plan. The School is effectively managed, and a good working relationship is evident among faculty, students and administrators."
Brian S. Brooks, associate dean for undergraduate studies and administration, spearheaded the School's preparation of the self-study and coordinated the visit of the on-site accrediting team.
"The vote of the Accrediting Council reaffirms what is generally recognized throughout the nation – that Missouri has an exceptional program in journalism education," Brooks said.
"We are honored to be one of very few schools continuously accredited since the process began in the late 1940s."
Updated: June 2, 2020
Related Stories
Expand All
Collapse All
---