Missouri School of Journalism Professor Amy Simons wins first place in national teaching competition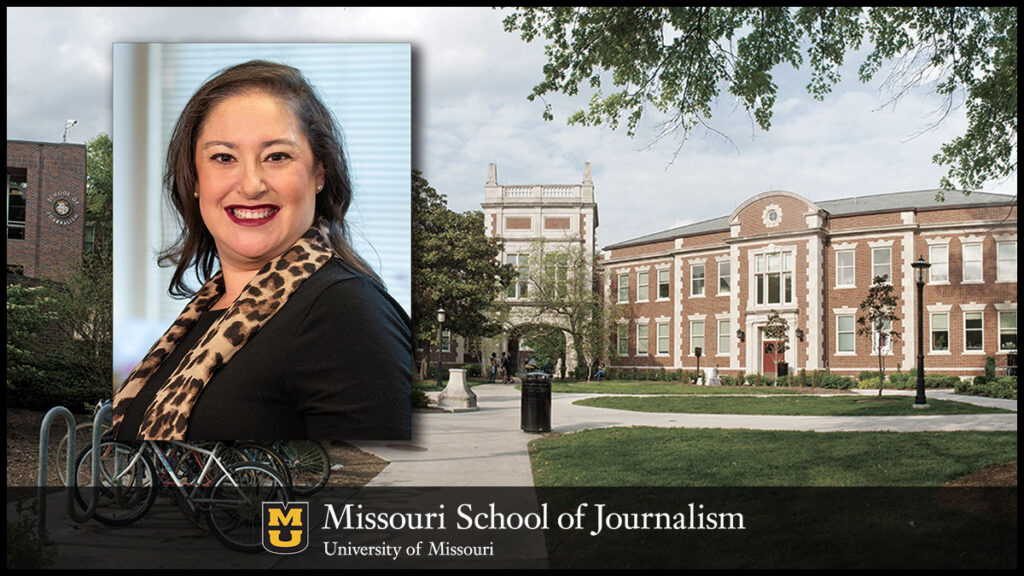 Columbia, Mo. (June 30, 2021) — Missouri School of Journalism Professor Amy Simons received first place from the Association for Education in Journalism and Mass Communication (AEJMC) in the Best Practices Competition. Simons won for her submission "Hold a Monthly Web Strategy Meeting."
Simons will present her idea at the AEJMC Best Practices session on Wednesday, August 4, 3 – 4:30 p.m. during their virtual conference. Her submission will also be featured in a special e-booklet to be published on the AEJMC website later this summer.
"The COVID-19 pandemic forced educators at every level to reconsider ways to teach students online in engaging and innovative ways. It's an honor to have AEJMC recognize my work in this area," Simons said. "Teaching online is something I've long enjoyed doing, and hope I can share this assignment – and some of my others – with colleagues across the country as they examine ways to continue online and blended learning with their students."
The annual competition provides a national forum to highlight innovative teaching in journalism and mass communication. Each year a different theme is selected, and members submit their assignments, classroom activities or ideas for competitive review. This year's competition focused on teaching skills in a virtual environment.
A hallmark of Simons' online course design is to incorporate the same authentic, hands-on learning experiences in her classes that one would find in face-to-face "Missouri Method" (learning by doing) courses. This assignment showcases that attention to detail.
Simons' assignment, designed to engage students' critical thought processes through experiential learning, is from her J7812 Online Audience Development course. It uses VoiceThread technology to re-create a newsroom staff meeting about increasing traffic to the outlet's digital platforms. The assignment assesses a student's ability to read analytics reports, determine patterns that show growth or loss, and formulate a plan to stymie loss. It also teaches students how to constructively communicate the plan to their colleagues.
"Creating interactive assessments in online courses presents a challenge, especially for off-campus students enrolled in asynchronous courses," Simons said. "I wanted to provide students with an authentic activity, one where they could grow their analytic skills and that would provide an experience students could encounter on their first job."
The blend of student-to-student and instructor-to-student interactions in her online courses has earned positive reviews.
"I enjoyed doing the VoiceThread strategy meeting.  What I really enjoyed was the constructive criticism from my classmates," said student Diane Duenez. "While the strategy meeting was a fun new challenge to put together as I had never used it before, I can now say I learned a new skill.  And yes, you can teach an old dog new tricks."
"I was able to put my knowledge of these analytics to the test in the "Monthly web strategy meeting" assignment," said student Sara Gobets. "I thoroughly enjoyed this chance to interact with my classmates and play out a real-world scenario. It was great to get the feedback from my colleagues and have to solve the problems presented to me. This was a great exercise in critical thinking and how to actually apply these lessons."
Student Sarah Weaver expressed that she "felt "included" in class even with being in a virtual class. Doing the discussions seems to help in the factor of feeling like partaking in an actual class. I honestly believe that with doing so, it has changed my learning process. I've taken multiple online courses before as a graduate student, but I felt like I actually was in a classroom with this course. I believe what made it even better was doing comments and presentations via video rather than just having words behind a screen."
Simons joined the journalism faculty in August 2010. Her work has taken her to China and the European Union, teaching web-first workflows, mobile journalism techniques and how to use social media as a reporting tool and a means to disseminate journalistic content. Simons serves as the adviser to the School's student organization, Mizzou Women in Media. Previously, she worked as a digital news editor for the Chicago Tribune.
She holds a master's of science degree from the University of Missouri's College of Education and a bachelor's of journalism from the Missouri School of Journalism.
About AEJMC
AEJMC is a nonprofit, educational association of journalism and mass communication faculty, administrators, students and media professionals across the globe. Dedicated to promoting the highest standards for education, the Association provides an abundance of resources for news, research and career opportunities, including a multicultural network of practitioners from every discipline of journalism and mass communication.
Updated: July 7, 2021
Related Stories
Expand All
Collapse All
---