Thirteen Missouri School of Journalism students and alumni chosen as 2022-23 Report for America corps members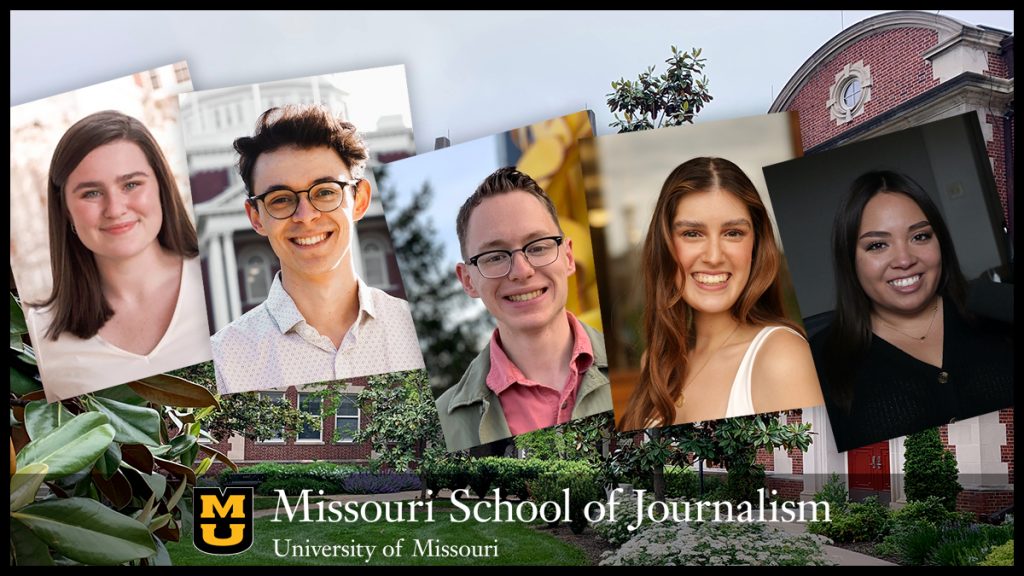 For two new members, joining Report for America is a dream opportunity to give a voice to underrepresented communities
By Nate Brown
(Columbia, Mo., May 17, 2022) — One Missouri School of Journalism graduate student, four members of the Class of 2022 and eight alumni will join the 2022-23 class of Report for America, which sends journalists to news outlets across the country to report on undercovered issues and communities.
This year's reporting corps of more than 300 journalists will be dispatched in June to more than 200 local news organizations in all 50 states, Guam, Puerto Rico and Washington, D.C. Ten RFA journalists, in collaboration with their respective newsrooms, will report for the new Mississippi River Basin Ag and Water Desk, which is based at the J-School.
Report for America is a two-year program with a one-year check-in. Alumni Maria Benevento, Bennito Kelty, Tran Nguyen and Jacob Steimer are returning for their second year; Catherine Hoffman and Yehyun Kim are returning for the optional third year.
New to the program are graduate student Cory Johnson; May 2022 graduates Danielle DuClos, Connor Giffin, Hannah Norton and Xcaret Nuñez; and alumni Laura Kebede and Casey Murray.
Nuñez will cover agriculture and rural issues for KOSU radio in Oklahoma City, Oklahoma. She's currently an advanced student reporter, producer and news anchor at KBIA-FM.
"I am so excited to get to know Oklahoma and the communities that produce the food on our table," said Nuñez of Yuma, Arizona, who'll graduate on Friday. "I would not be the reporter I am today without the support from my KBIA mentors. Janet Saidi has taught me everything I know about being an audio journalist. She's showed me the importance of highlighting underrepresented voices, building up a community and approaching conversations with an open mind and critical eye.
"She, as well as Becky Smith, inspire me every day to reach for my dreams and remind me that no dream is too big."
Johnson, a multimedia journalist for KOMU-TV, is heading south to WKRG-TV in Mobile, Alabama, where he'll do enterprise reporting in neighboring George and Greene counties in Mississippi. "WKRG has committed to deploy me with the resources to not only constantly break news, but to make some progress in fixing it with solutions-based, community-driven investigative reporting that builds trust and strengthens our towns," he said.
"My true passion in life, first and foremost, is service. Reporting is my vehicle. Having the resources to dig and lead a beat while also joining Report for America is really a dream come true. I feel so blessed to be supported by two organizations that feel the same weight of the Journalist's Creed as I do."
Here's the complete list of the School's students and alumni in the 2022-23 RFA class and their beats.
Maria Benevento, MA '21: education for The Kansas City Beacon.
Danielle DuClos, BJ '22: watchdog education for the Green Bay Press Gazette in Wisconsin.
Connor Giffin, BJ '22: pesticide runoff and climate change for The Courier-Journal in Louisville, Kentucky (Mississippi River Basin Ag and Water Desk).
Catherine Hoffman, BJ '20: rural issues in Missouri for Kansas City PBS.
Cory Johnson, graduate student: covering George and Greene counties in eastern Mississippi for WKRG-TV in Mobile, Alabama.
Laura Kebede, BJ '12: civil rights cold cases in Tennessee for the Institute for Public Service Reporting at the University of Memphis.
Bennito Kelty, BJ '18, government accountability and equity issues in Tucson, Arizona, for TucsonSentinel.com
Yehyun Kim, MA '19: photojournalism, focusing on communities of color, for The Connecticut Mirror.
Casey Murray, BJ '21: data reporting on health and criminal justice inequities for The Sacramento Observer.
Tran Nguyen, MA '21: Vietnamese communities in San Jose, California, for San Jose Spotlight.
Hannah Norton, BJ '22: Texas legislature and its hyperlocal effects on communities for Community Impact Newspaper in Texas.
Xcaret Nuñez, BJ '22: Oklahoma agriculture and rural issues for KOSU radio in Oklahoma City.
Jacob Steimer, BJ '16: poverty, power and public policy in Memphis, Tennessee, and Shelby County, Tennessee, for MLK50: Justice Through Journalism.
Alumni on the Report for America staff include Anna Brugmann, BJ '16, public policy and program associate; Pam Fine, MA '11, corps excellence regional manager; and Jo Herrera, BJ '15, training coordinator.
RFA is an initiative of The Ground Truth Project.
Updated: May 17, 2022
Related Stories
Expand All
Collapse All
---