Three Missouri School of Journalism students receive Donald W. Reynolds Scholarships in Business Journalism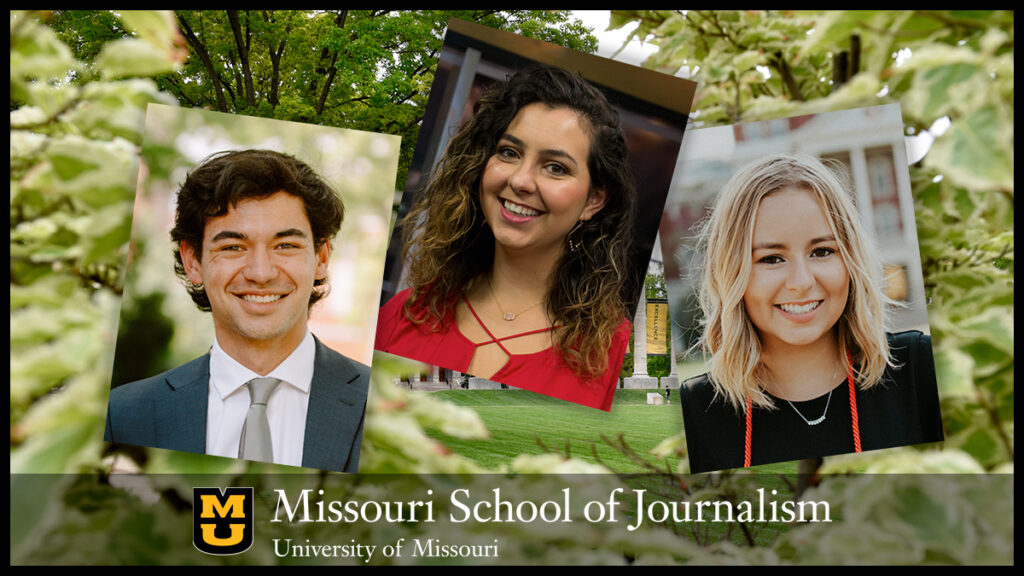 By Jennifer Nelson-Pallikkathayil
Columbia, Mo. (May 11, 2021) — Missouri School of Journalism students Ian Laird, Isabella Ledonne and Emmy Lucas have each won a $2,500 Donald W. Reynolds Scholarship in Business Journalism.
The scholarship is named for Donald W. Reynolds, a journalist, a businessman and entrepreneur, who left the Missouri School of Journalism to build a media empire that stretched across the country. Although he died in 1993, Reynolds remains the largest private donor to the Missouri School of Journalism.
Professor Randall Smith, who is also the Donald W. Reynolds Endowed Chair of Business Journalism, established the scholarship. He selects the recipients with the help of faculty and staff, on behalf of the Donald W. Reynolds Foundation, who funded the scholarship.
Meet this year's recipient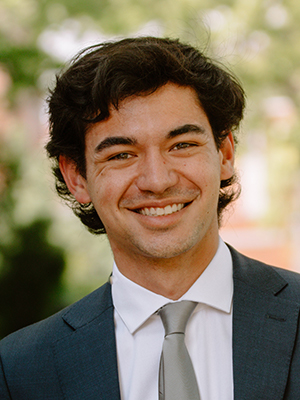 Junior Ian Laird of Seattle is majoring in journalism and economics. He said one of the aspects that interests him the most in business journalism is that almost any type of story can be connected back to business.
"It gives you freedom as a writer to focus on any of the topics that you care about rather than having to pick one lane," he said.
He began developing an interest in business journalism after meeting Professor Smith as a freshman, while attending the Missouri Honor Medal event. Smith invited him to dinner with several other students and a Bloomberg recruiter. Laird said he's thankful Smith invested in him at such a young age.
"As a freshman, I hadn't expected to get an opportunity like that so early on, and it endeared me to him (Smith) right away since it seemed to me like he was genuinely just trying to give students as many opportunities as possible," said Laird. "When I arrived at the dinner, I think I was the only freshman at the time, everyone else was a senior. It made me think that Randy trusted me or saw something in that short conversation that made him believe in me, which was inspiring."
Smith told Laird about Missouri Business Alert and the undergrad has since written articles for the publication, as well as helped with the newsletter. The Missouri Business Alert is a digital newsroom that publishes the top business news from across the state.
This summer Laird will be studying abroad in Barcelona, Spain, where he will be interning with the DTI Foundation as a communications intern.
"Three things stand out about Ian," said Smith. "He's a double major in economics and journalism. He's a regular contributor to Missouri Business Alert on many levels. His wide array of interests give his reporting variety. He'll soon be in Barcelona, which will give him a new understanding of international economics."
Laird said he's still deciding what he'd like to do after graduation, but he's considered strategic communications, economics and statistics.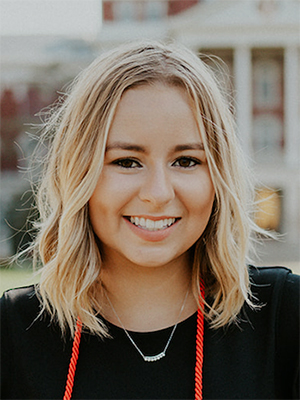 Emmy Lucas, BJ '20, is a second year graduate student from Lindenhurst, Illinois, studying magazine editing.
"She is both hard-working and a tremendous scholar," said Smith. "She has a wide variety of jobs to support herself, and contributes meaningfully at Vox and Missouri Business Alert. She also volunteers and gives tours to prospective students and families."
Lucas has taken a couple of Smith's business journalism class, which introduced her to business journalism. She then started reporting for the Missouri Business Alert. She interned for Bloomberg News last summer on the municipal finance team.
"I've found that I love tackling issues that move both markets and people," she said. "It's exciting reporting out business stories whether it's a local or national issue or trend."
Lucas said she'd love to be an editor of a business publication or magazine after she graduates this December. This summer she will be working in Columbia reporting for the Missouri Business Alert and writing for MU News Bureau.
She plans to go to New York this fall with the school's New York Program to finish her degree.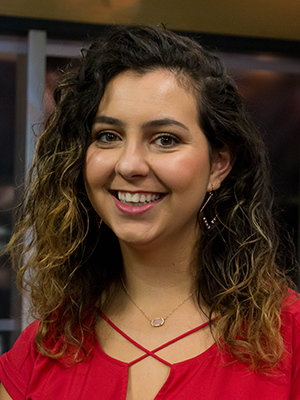 Junior Isabella Ledonne of Lombard, Illinois, first developed an interest in business journalism in her microeconomics class in high school even after she was determined to despise economics and only take the advanced class to avoid taking economics in college. But then she quickly fell in love with the subject.
She also had a passion for journalism, so once she got to MU, she decided to combine her passions and pursue a business journalism degree. She took Smith's business journalism class, where she quickly improved her business writing skills.
She's been able to take what she's learned in his class and apply it to stories she's worked on for KOMU-TV, an NBC affiliate that is also a hands-on teaching lab for journalism students at the School.
"I've been able to have a lot of creative freedom both in Professor Smith's business journalism class and at KOMU to craft the types of stories I want to tell," she said. "The J-school has given me some of the best opportunities for telling business stories because I'm not limited in what I'm allowed to do.
This summer Ledonne will be interning at Funiber in Barcelona, Spain, as part of the MU Journalism Abroad program this summer. She will be a communications intern doing video productions for promotional purposes within the company.
"I've watched her grow since her freshman year," said Smith. "Today, she is a regular on KOMU-TV, reporting regularly on the day's economic news. She is an excellent reporter. She is paying her way through school, which means that she makes time for her outstanding work on top of a regular job."
She hopes to become a broadcast journalist that focuses on business and economic reporting after she graduates.
Updated: May 12, 2021
Related Stories
Expand All
Collapse All
---