Missouri Journalism Student Documents Wrongful Conviction
In fall 2006 Ben Poston enrolled in an intermediate writing class, hoping to learn how to be a better writer. His assignment, a potential wrongful conviction case, continued well beyond the course, the completion of his master's project and graduation. In February 2009, more than two years after the start of his work, Josh Kezer was exonerated. In his own words, Poston shares his experience.

By Ben Poston, MA '07
Milwaukee, Wis. (March 4, 2009) — Josh Kezer has a Gmail account.
Last month, he sent me an e-mail, one of the first few of his life.
He calls anyone he wants, anytime he wants with his cell phone, a device that was still uncommon in 1993 when he was wrongly charged with murdering a college student in southeast Missouri.
He was released on Feb. 18, 2009, from Jefferson City Correctional Center where he was serving a 60-year sentence for a murder a Cole County judge ruled he did not commit.
Kezer can slice a steak with a knife and eat it with a fork. For nearly 16 years he subsisted on bland prison food and was allowed only a plastic Spork.
He shaves his face with foamy cream, instead of a punishing "dry shave."
Now 34, Kezer rides in a car, cranks up a Red Hot Chili Peppers tune, and lets the cold Missouri air rush over his face.
Joshua Charles Kezer is a free man.
A Heavy Box
I came to the Missouri School of Journalism in August 2005, a graduate student seeking to become a better writer and learn database, mapping and statistical analysis skills.
In fall 2006, I enrolled in an intermediate writing course taught by University of Missouri journalism professor Steve Weinberg. During the first week of class, he asked if anyone would be interested in researching a potential wrongful conviction case.
I accepted his challenge.
Steve handed me a heavy box that contained a 1,200-page trial transcript, hundreds of pages of additional court documents and a case summary written by Columbia resident Jane Williams, who had befriended Kezer in prison.
Williams' summary laid out the key facts of the case:
Angela Mischelle Lawless, a 19-year-old Southeast Missouri State University nursing student, was found shot to death in a car on an I-55 exit ramp in November 1992 in Scott County, Mo., just south of Cape Girardeau County.
Kezer was later convicted of her murder, despite a lack of physical evidence to connect him to the crime. No DNA evidence, palm prints or fingerprints linked him. There were no eyewitnesses to the crime. The only witness to put Kezer near the scene changed his statement to police at least five times before testifying at trial. Kezer's alibi witnesses said he was 350 miles away in Kankakee, Ill., on the night of the murder.
Three jailhouse snitches from the Cape Girardeau County jail claimed Kezer confessed to the murder about two months after the crime. They all received lighter sentences for their cooperation. Two of the three snitches later recanted, though one recanted his recantation and testified at trial against Kezer. A fourth snitch later said Kezer confessed, though he also recanted.
It makes your head spin, I know.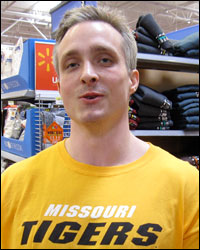 Moving Forward
In the days after I took the documents home, I was intimidated by the case. It sat on my bedroom floor on Hinkson Avenue in Columbia for several weeks before I even dared to open it.
I'm not sure exactly what I feared.
I remember thinking I might spend months researching, interviewing and writing and not have anything to show for it. Mainly I feared the unknown. I doubted my abilities as a journalist. It took me a month just to get through the first 200 pages of jury selection.
With the encouragement of Steve Weinberg; Brant Houston, the former executive director of Investigative Reporters and Editors; and MU professor David Herzog, I decided in November 2006 to research the case for my master's project. I hoped to one day see my story published in the St. Louis Post-Dispatch where I had worked as a news intern.
I reviewed the trial transcript for several weeks over the Thanksgiving and Christmas breaks. I took detailed notes and diagramed the case using a science fair board and note cards just to keep all the names straight. More than two years later, the diagram still hangs above the desk in my Milwaukee apartment.
About the same time I begin digging into the case file, attorneys at Bryan Cave law firm in St. Louis also read Williams' case summary. They eventually became convinced of Kezer's innocence and took his case for free. Charlie Weiss, former president of the Missouri Bar Association, Steve Snodgrass and Jim Wyrsch, worked for more than two years on the case, tirelessly gathering depositions from witnesses scattered around the country.
Unbeknownst to me when I first read through the file, Scott County Sheriff Rick Walter made a rare move and reopened the Mischelle Lawless murder case in early 2006. Working as a part-time reserve deputy in 1992, Walter was the first law enforcement officer to discover Lawless' body. For years, the case haunted him – he long felt more than one person was responsible for her murder, and he questioned the integrity of the original investigation.
The Real Work Begins
By January 2007, I began talking to sources. I interviewed Kezer in the Jefferson City prison five times that year. I also interviewed his original defense attorneys, his new lawyers, his appellate attorney and Sheriff Walter.
I interviewed Kezer's family and Lawless' brother because her parents declined interview requests. I made scores of phone calls to old and new witnesses, jurors, the trial judge, investigators on the original case, and a private investigator.
Many weekends that semester, I drove to locations around the state for interviews. I traveled to Cape Girardeau, Benton, Sikeston, Miner, Festus, Scott City, Commerce, Jefferson City and also Kankakee, Ill., where Kezer's father lived.
I gathered many telling details along the way that are recorded in my 140-page master's project on file at the MU journalism library.
Through my reporting, I knew I had a compelling story to tell. It was just a matter of condensing it all into a coherent narrative, which proved daunting.
After defending my project and graduating in May 2007, I was hired as a reporter at the Milwaukee Journal Sentinel. I was pleased to have a full-time job but didn't want to give up on the Kezer story.
During the summer and fall, I worked on evenings and weekends with editors at the St. Louis Post-Dispatch who remained interested in running my story as a freelance writer. With the help of projects editor Jean Buchanan and enterprise editor Todd Stone, my 3,500-word story was published on the front page of the St. Louis Post-Dispatch on Nov. 25, 2007.
The article broke the news that Sheriff Walter had reopened the case and that Kezer had attorneys working on his behalf. It also highlighted new witnesses and evidence not presented at the original trial. The story generated a lot of buzz on a case that hadn't received any attention in about 14 years.
A Year Later
In April 2008, Kezer's attorneys filed their motion to overturn Kezer's conviction in Cole County where Kezer was incarcerated at the Jefferson City Correctional Center on No More Victims Road. Four months later, Cole County Judge Richard Callahan granted Kezer an evidentiary hearing, scheduled for December 2008.
I attended the hearing in Jefferson City on Dec. 2-3. All the sources I had interviewed the previous year were gathered together in one room. The hearing went well for Kezer and his attorneys.
More than two months later, on Feb. 17, 2009, Joshua Charles Kezer was exonerated. He was released from prison the next day after almost 16 years behind bars.
Judge Callahan ruled that Kezer's case met the legal standard of actual innocence, meaning that no reasonable juror would convict him in light of newly discovered evidence.
"There is little about this case which recommends our criminal justice system," Callahan wrote in his ruling. "The system failed in the investigative and charging stage, it failed at trial, it failed at the post-trial review, and it failed during the appellate process."
The ruling was vindication for Kezer, who long maintained his innocence to anyone who would listen.
Judge Callahan wrote that the Attorney General's special prosecutor Kenny Hulshof withheld multiple pieces of exculpatory evidence, misstated evidence in his closing arguments and endorsed the "obvious lies" of the jailhouse snitches.
Hulshof served six terms as a U.S. Congressman representing Missouri's 9th District before unsuccessfully running for governor in fall 2008. He was also a finalist for University of Missouri System President in 2007. Hulshof has declined repeated interview requests, though I look forward to interviewing him one day.
The judge said that Scott County Sheriff Rick Walter was the "only bright note" in the case.
"Largely through his efforts, along with those of Petitioner's counsel, is the system finally righting itself with respect to Josh Kezer," Callahan wrote.
Meanwhile, Sheriff Walter continues to investigate the murder of Lawless to find those responsible.
A New Beginning
When I first spoke to Kezer after his exoneration, he had only a few moments before he had to go back to his cell.
"This is proof God is real," he said. "This is proof. This is wonderful."
I found out the next morning that Kezer would be released. I drove 8 hours from Wisconsin to Missouri and was able to make it there late that night.
I spent the next two days with him in Columbia, where he lives now, collecting audio, video and photos for a future story.
His first two car trips resulted in carsickness and a nauseous dash to the bathroom. He hadn't traveled in a car in 16 years.
Still, Kezer adjusted quickly to new experiences – shopping for clothes at Walmart, devouring French toast at Ernie's Café and sizzling fajitas at Chevy's Fresh Mex restaurant.
As he described it, he was like a newborn baby seeing the world for the first time with fresh eyes.
He seemed grateful for each moment of freedom. He thanked everyone who had believed in his innocence and even strangers who stopped for a minute to listen to his story.
I've not seen anyone more at peace than Josh Kezer was during his first days of freedom. His shoulders relaxed. He laughed easy and smiled big.
His new life is off to a promising start. He has a place to live with a friend in Columbia and has lined up a painting job to earn money.
He is eager to tell his story.
On Feb. 28, Kezer spoke to a group of high school athletes in St. Louis. He cautioned them not to make the same bad choices he did as a teenager like dropping out of school, doing drugs and joining a gang.
"If I'd just done some things differently, I wouldn't have been such an easy target," Kezer told them. "Decisions you're making right now can affect the rest of your life."
Looking back at that first e-mail I received from Kezer, I notice he finished with these words:
"Just remember that Jesus is King and in complete control. He's the Alpha and Omega, the beginning and the end. Trust me, as long you're with the Author, you'll love the ending."
Updated: April 30, 2020
Related Stories
Expand All
Collapse All
---