Master's Student Shares Win in 2006 Best of Cox Award
Columbia, Mo. (April 6, 2006) — Master's student Ben Poston and two of his former colleagues from the Hamilton (Ohio) JournalNews won a 2006 Best of Cox Award for best deadline reporting on the Katrina coverage. The award carries a $1,000 cash prize.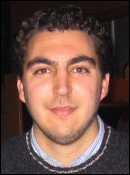 Poston served as a general assignment reporter and did freelance reporting for the Cox Newspaper affiliate during his graduate studies at the Missouri School of Journalism last year. The Springfield, Ohio, native earned his bachelor's degree in international studies from Miami University of Ohio. Poston serves as an instructor in an introductory newswriting course at the School.
Their winning entry recounted the group's travel to Stone County, Miss., on Labor Day weekend in 2005 to cover the Katrina aftermath. A group of sheriff's deputies from Butler County, Ohio, of which Hamilton is the county seat, went down to Wiggins, Miss., to help law enforcement there and also distribute aid.
During his four-day stay in the disaster area, Poston wrote five stories about residents of rural Stone County, Red Cross shelters and the deputies' role in the relief effort. He and Cox photographer Carrie Cochran even reunited a family that had ties to Ohio.
In addition, Poston wrote blogs for the JournalNews and for MyMissourian.com, the School's citizen journalism Web site. Clyde Bentley, an associate professor of convergence journalism, said he was "deeply moved" by what Poston shared about what he saw and heard in Mississippi.
"Ben's blogging experience gave him a deep appreciation for the human spirit and the value of being just Ben, a real person," said Bentley. "He is now part of a small corps of graduate students who I turn to guide the future of citizen journalism through our MyMissourian project."
There were 646 entries in 32 categories in the 2006 Best of Cox Awards, 65 more than last year's 581.
The contest was for work by Cox Newspapers Inc. journalists in calendar year 2005. Cox Newspapers are located in Colorado, Florida, Georgia, North Carolina, Ohio and Texas.
Updated: April 9, 2020
Related Stories
Expand All
Collapse All
---