Watergate Editor to Speak About Experience, Legacy of Landmark Story
Columbia, Mo. (Feb. 14, 2007) — Harry M. Rosenfeld, the Washington Post city editor who oversaw the history-making Watergate investigation, will speak about his experience with the legendary story at 4 p.m., Thursday, March 8, in Fisher Auditorium at the Missouri School of Journalism.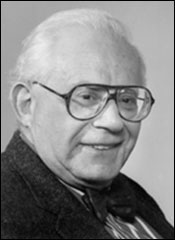 The Watergate scandal began as a routine story in June 1972 about a break-in at the Democratic National Committee headquarters at the Watergate Hotel in Washington, D.C. Over the next two years, government officials at the highest levels were implicated in the crime. In August 1974, the Post's investigative reporting led to the resignation of President Richard M. Nixon, the only U.S. president to have resigned from office. The Washington Post received the 1973 Pulitzer Prize for its Watergate reporting.
"Coverage of Watergate has had a lasting impact on modern American journalism," said Stuart Loory, professor of magazine journalism and Lee Hills Chair in Free Press Studies at the School. "Harry Rosenfeld has a lot of important thoughts on the impact of Watergate that journalism students and the public will find interesting."
Rosenfeld initially hired Bob Woodward, the lead reporter in the Watergate investigation, on a three-week trial basis in August 1970. During the trial period, Rosenfeld decided that Woodward needed more experience and told him to reapply in a year. Woodward went to work for a weekly suburban paper, and in September 1971, Rosenfeld rehired him. Since Watergate, Woodward has become an assistant managing editor at the Post and has authored 12 best-selling nonfiction books.
Rosenfeld teamed Woodward with reporter Carl Bernstein to cover the Watergate break-in. As the story grew in scope and importance, Rosenfeld fought hard to keep the story in Woodward and Bernstein's hands and under his supervision at the city desk.
Rosenfeld joined The Washington Post in 1966, having previously served as foreign editor of the New York Herald Tribune. After Watergate, he became editor in chief of the Albany Times-Union. Rosenfeld, a native of Berlin, Germany, continues to write a news and politics column, which appears in the Times-Union and other Hearst newspapers.
The lecture is free and open to the public.
Updated: April 16, 2020
Related Stories
Expand All
Collapse All
---