Professor Mike McKean Named New Mizzou Advantage Facilitator
He Will Oversee Initiatives Involving the Media of the Future Area
By Jerett Rion
MU News Bureau
Columbia, Mo. (Aug. 22, 2013) — Mike McKean, associate professor of journalism and director of the Reynolds Journalism Institute Futures Lab, is one of two new facilitators for Mizzou Advantage at the University of Missouri.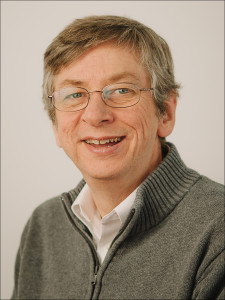 McKean will oversee the Media of the Future initiative area. Michael Gold, research professor of agroforestry and associate director in the Center for AgroForestry, has been appointed education facilitator.
Since 2010, four key areas of strength have been collectively known as the Mizzou Advantage: One Health, One Medicine; Sustainable Energy; Media of the Future; and Food for the Future. Nearly 100 research projects involving approximately 400 faculty members and hundreds of students across campus have been spearheaded by a facilitator in each of the four areas in addition to a facilitator that oversees an educational component.
"It's an important turning point for Mizzou Advantage as we move into a new academic year," said Provost Brian Foster. "We have hired people who can help move Mizzou Advantage to the next step, including applying for grants from government agencies and focusing on the most rapidly changing jobs in our economy's future. We want to prepare our students for tomorrow's jobs and give our faculty the tools to solve the problems of the future."
As the facilitator for Media of the Future, McKean will be responsible for developing interdisciplinary projects that involve journalism and bringing together faculty from other disciplines, on and off campus.
"Mike McKean comes to this position with an immense amount of relevant experience in the world of media," Foster said. "Our first facilitator, Charles Davis, made great progress and laid a good foundation, which Mike will be able to use and build upon as we move forward."
Davis became dean of the University of Georgia Henry W. Grady School of Journalism and Mass Communication at the beginning of the 2013-14 academic year.
One example of a Media of the Future initiative involved students from the School of Journalism, College of Engineering and School of Medicine working in teams to explore how motion-capture technology used in video games can be used to help rehabilitate patients.
The RJI facilities allow students to expand mobile application development on campus. They recently created a new app that helps consumers locate, store and prepare fresh local produce as well as an app that helps university students find a safe path across campus.
"Jobs in today's world require students to have expertise in more than just their area of study," McKean said. "They can learn important skills from one another that build on instruction they've received in the classroom. These collaborations can lead to better job opportunities."
McKean received his bachelor's degree in journalism from MU in 1979 and a master's degree in political science from Rice University in 1986. He began teaching journalism at MU in 1986, and later, founded the convergence journalism sequence. McKean has won numerous awards, including the MU Innovator Award for Advanced Teaching with Technology in 2005 and the William T. Kemper Fellowship for Teaching Excellence in 2011.
Reuben Stern has been promoted to deputy director of RJI's Futures Lab in conjunction with McKean's new Mizzou Advantage duties.
Updated: July 17, 2020
Related Stories
Expand All
Collapse All
---