Charles Davis Named One of Five Faculty Facilitators for Mizzou Advantage
Columbia, Mo. (April 19, 2010) — Missouri School of Journalism Professor Charles Davis has been named one of five faculty facilitators for Mizzou Advantage. The appointment, made by University of Missouri Provost Brian Foster, is effective immediately.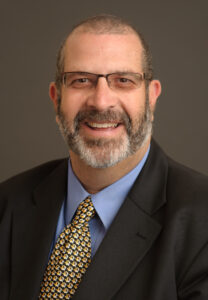 The economy, culture and social fabric, all of which are in the midst of transformational change, define Mizzou Advantage, a campus-wide initiative to identify and build networks around the top five competitive assets at the University of Missouri.
Educational programs associated with these initiatives will help students ready themselves for the constantly changing global marketplace. Initially, the educational programs associated with the initiatives will focus on certificate programs that will provide context for graduates as they pursue their careers.
As the faculty facilitator for the Media of the Future initiative area, Davis will facilitate interactions, relationships and creative dialogues that will lead to innovative projects.
"Our competitive assets differentiate us from the biggest, best-resourced universities and allow us to do things they can't do," Foster said. "These facilitators will be responsible for guiding these five strategic areas, encouraging research collaborations, identifying specific grant opportunities, and helping to recruit visiting scholars and prominent scientists. This is the time to invest in our resources as our students, the state and the nation will benefit from these collaborations."
Foster has budgeted $6 million to fund the Mizzou Advantage each year. He hopes this strategic effort will result in greater impact and stature for MU and more opportunities and jobs for Missourians.
Davis joined the Missouri journalism faculty in 1999. He has served as executive director of the MU Freedom of Information Center, executive director of the National Freedom of Information Coalition (2005-2010) and for four years served as chair of the news-editorial department. In 2008, Davis was named the Scripps Howard Foundation National Journalism Teacher of the Year. He has received research grants from the John S. and James L. Knight Foundation and the Rockefeller Family Fund to study homeland security and freedom of information issues. He also received a U.S. Department of State grant to complete a curriculum reform project for Moscow State University in Russia. Davis worked for 10 years as a newspaper and wire service reporter before earning his doctorate in mass communication from the University of Florida in 1995.
The other Mizzou Advantage strategic assets are Food for the Future; One Health, One Medicine: The Convergence of Human and Animal Health; Sustainable Energy; and Understanding and Managing Disruptive and Transformational Technologies.
Updated: May 8, 2020
Related Stories
Expand All
Collapse All
---