New Benchmark Established with Publishing of Virtual Reality Feature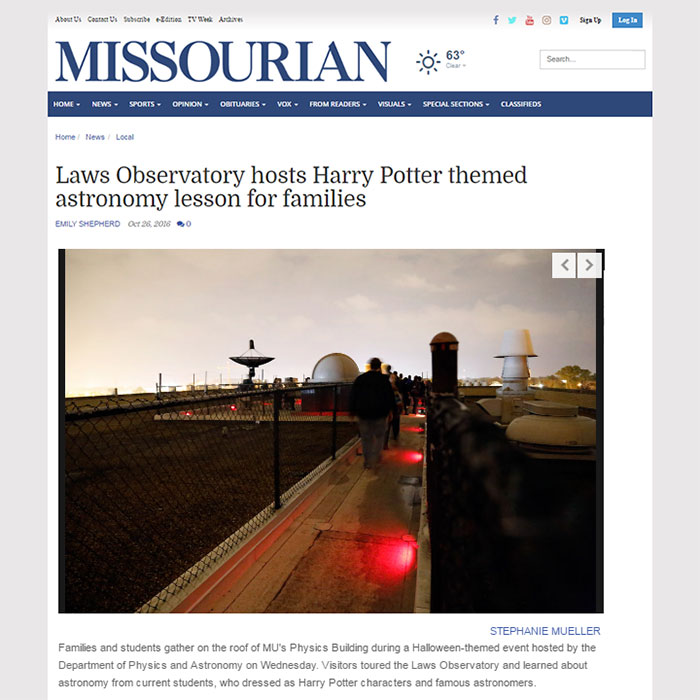 In a Columbia Missourian Oct. 26 article, Emily Shepherd wrote about a Harry Potter-themed astronomy lesson; the article included 360-degree photo coverage.
The Technology Identifies the Need for New Workflows to Getting the Content Online
Columbia, Mo. (Nov. 1, 2016) — The Missouri School of Journalism's virtual reality program hit a benchmark recently by publishing a 360-degree-illustrated news feature on normal online newspaper deadline.
In the Columbia Missourian Oct. 26 article, Emily Shepherd wrote about a Harry Potter-themed astronomy lesson that night at the university's Laws Observatory. Stephanie Miller provided normal photographic coverage, but Claudia Chong and Sarah Wynn covered the event with a virtual reality camera capable of taking 360-degree photos. Shepard, Miller, Chong and Wynn are journalism students.
While the stars were still bright, Chong and Wynn sent the VR images to producer Zack Newman, who processed them through the Flickr photo site and embedded them into Shepherd's deadline story just two hours after the event.
News media across the country have published many 360-degree photos and videos, but the emphasis to date has been on feature stories with deadlines that stretch over days or weeks.
"Our goal is to integrate VR with the normal news process," said Associate Professor Clyde Bentley, who heads the Missouri VR Journalism project. "We unfortunately trade speed for quality, so these shots were not a sharp as we would like them. But it will only get better."
The project works closely with the daily Columbia Missourian, a community newspaper staffed by Missouri students and supervised by veteran journalists/professors.
"A new element has been coordinating with the newsroom, specifically working with the video and photo coverage we do at the Missourian," said Missourian Director of Photography Brian Kratzer. "We've been working on identifying stories and enterprise ideas to give the class a real Missouri Method experience. And what we've learned in the process of publishing such new technology is the need for completely new workflows for actually getting the content online."
The Mizzou VR Journalism project is funded by Mizzou Advantage and involves 19 students and two teaching assistants testing a variety of cameras and techniques to produce VR on deadline. As virtual reality photos and videos are taken from a number of lenses at once, the resulting images must be what is called "stitched" together. The process is notoriously cumbersome.
"This type of VR is less than two years old, so we are still in the experimental stages," Bentley said. "I believe, however, that it will have lasting impact on journalism."
Updated: October 6, 2020
Related Stories
Expand All
Collapse All
---