Mizzou Women in Media Wins Excellence Award
The Organization Showcases the Importance of Inclusion and Mentorship
By Kiara Ealy
Columbia, Mo. (April 18, 2016) — Mizzou Women in Media was awarded the 2015-16 Chancellor's Excellence Award for Best New Organization. The group and its adviser, convergence journalism Associate Professor Amy Simons, were honored at an April 16 reception for recognition in excellence in "leadership, multiculturalism and involvement." Excellence is one of the core values of the University of Missouri.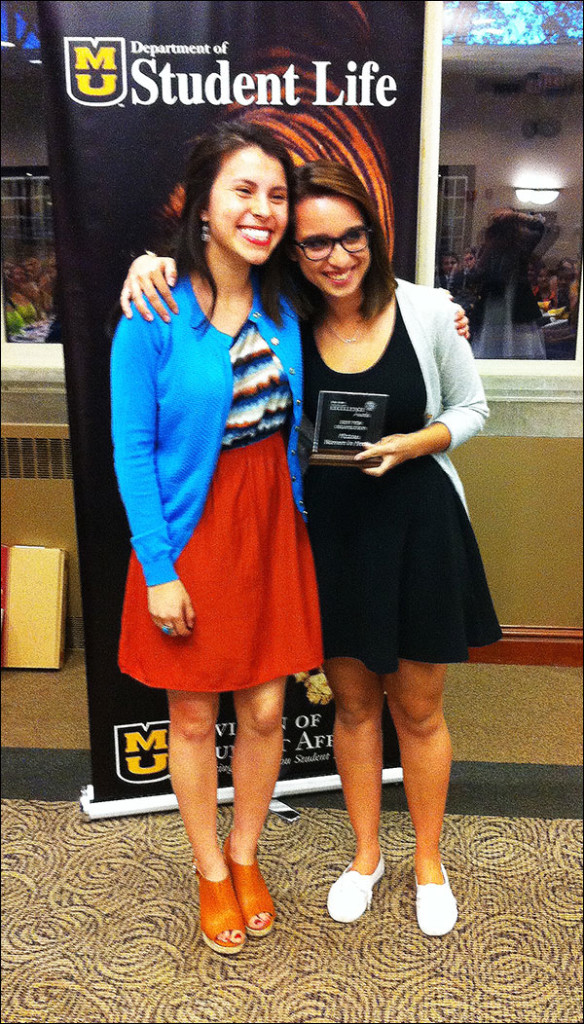 Mizzou Women in Media strives to form a working relationship between University of Missouri students and media professionals interested in journalism, advertising, marketing or communications. The executive board consists of Missouri School of Journalism students Madi Alexander, Beatriz Costa-Lima, Alli Ladd, Katy Mersmann and Daniela Vidal.
Mersmann, a graduate student and a founding member of Mizzou Women in Media, expressed how the group filled a need by creating a working relationship between women in both the professional and classroom settings.
"We felt there was a very palpable hole in the organizations in the journalism school, especially because women's experiences in communications and media fields are often unique and not necessarily addressed in broader groups," Mersmann said.
In its first year, Mizzou Women in Media established a mentoring network, connecting upperclassmen and graduate students with industry professionals and underclassmen with older students. It also launched an awareness campaign, asking women to complete the sentence "Journalism needs my voice because…", posting photos to the hashtag #MyVoiceBC on Facebook and Twitter. Mizzou Women in Media teamed with the Mizzou's Association of Women in Sports Media for a panel discussion among the female honorees during the 2015 Missouri Honor Medal activities.
Updated: September 24, 2020
Related Stories
Expand All
Collapse All
---