More Than 65 Missouri Journalism Students Participate in Mizzou Alternative Breaks to 12 US Locations
Service Activities Change Lives and Perspectives on a Variety of Issues
Columbia, Mo. (April 30, 2014) — More than 65 Missouri School of Journalism students chose community service rather than relaxation during spring break. They were among the nearly 650 University of Missouri students who registered for 53 Mizzou Alternative Breaks trips. MU's program is ranked No. 4 in the nation for the number of participants and trips.
The Missouri Journalism students dealt with a variety of issues facing children, urban environments, women and Native Americans. They worked with those in homeless/poverty situations. Other areas included animals, education and health.
The group included all year levels, from freshmen to senior. Their work took them to 11 states and the District of Columbia.
"The idea of public service and journalism go hand in hand," said Lynda Kraxberger, associate dean for undergraduate studies. "This is just one of many examples of how our students serve others."
Several students shared highlights about their alternative break experience. Here are their stories, in their own words.
Emma Balkenbush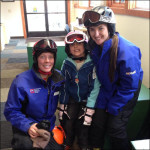 Major: Sophomore, Radio-TV Journalism
Hometown: Edwardsville, Illinois
Trip: Adaptive snow ski program in Breckenridge, Colorado
Description: The program is designed to teach kids and adults with disabilities how to snow ski. Throughout the week, we were each paired up with an instructor and a student with a disability that could be anything from autism to cerebral palsy or even blindness. We were trained how to properly snow ski as well as how to interact with and help the students. My experience was honestly the coolest thing I have ever done. Never in a million years did I think I would be skiing down a mountain in Colorado, holding the hand of a six-year-old girl with autism. I was so inspired by what the BOEC (Breckenridge Outdoor Education Center) does that I became determined to go back. I applied for their summer internship and just recently found out that I was selected to go back and volunteer there again this summer.
Hannah Boxerman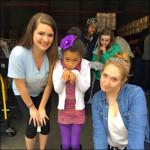 Major: Sophomore, Strategic Communication
Hometown: Pacific, Missouri
Program: Love in Action Outreach in New Orleans
Description: My group, which was a fantastic group of people from all walks of campus life, volunteered at Love in Action Outreach (LIAO), a food pantry in East New Orleans. Working at the food bank was an amazing experience. We met the generous and kindhearted woman behind LIAO, whom everyone affectionately referred to as "Miss Gail." Miss Gail oversees the day-to-day operations of LIAO, sometimes serving up to 700 households a day. MAB volunteers helped unload shipments from food trucks, organize client paperwork and acted as personal shoppers to help the families served by LIAO fill up their carts. In the evenings, we were able to sightsee in New Orleans. I even joined a second line, a New Orleans tradition that involves a jazz band leading a crowd of dancers through the streets of the city. As a result of Mizzou Alternative Breaks, I am choosing to use my strategic communication degree to work in the nonprofit field. My New Orleans experience was one of the best weeks of my life and reminded me that when you volunteer, you not only serve others, but help yourself to grow as well. "The best way to find yourself is to lose yourself in the service of others." Mahatma Gandhi.
Steven Chaffin Jr.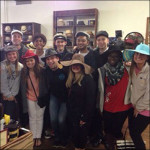 Major: Freshman, Business Journalism
Hometown: St. Louis
Program: Le Bonheur Children's Hospital in Memphis, Tennessee
Description: I was part of the group that went to Le Bonheur Children's Hospital. We spent around six hours per day in the hospital, interacting with children by making arts and crafts, playing games, talking and simply spending time with them to help them forget about the day-to-day stress of being in a hospital. We also were available to assist the patients' families: We provided coffee, hot cocoa, magazines and a variety of hygienic products completely free of charge so that their stay could be more convenient and less costly for them. It was a very rewarding experience for everyone involved, and we're all eager to dedicate more time to Mizzou Alternative Breaks.
Kylee Groon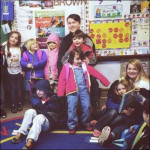 Major: Sophomore, Strategic Communication
Hometown: Aliso Viejo, California
Program: Head Start/The Hub in Billings, Montana
Description: Billings, Montana, was such an odd place to go for service, I had originally thought. Little did I know the impact that city would have on me. Working with the homeless and impoverished community there was extremely eye-opening, and I will forever cherish the memories I made working with the children at Head Start and the adults at The Hub. I was able to really see the need in the community, especially when I was staring it right in the face. I learned that every person, no matter what income level or state of mind, is worthy of love. They are worthy of being noticed and appreciated as a human being. In fact, it is crucial for each of them to have that real love and respect in order to strive for better things. I learned that even the most simple act could do a world of difference in the eyes of someone suffering to feel accepted in a community where they most often are not accepted. The people I met taught me so much about compassion and vulnerability, to the point where I am now completely willing to make a change in the way I treat anyone I come in contact with. With the help of the #ASBillings crew, I came out of this trip with a new found passion for serving others, 11 best friends, and a true love for the community of Billings, Montana, I miss it so much already.
Anne Marie Hankins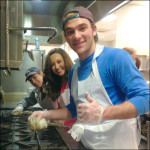 Major: Sophomore, TV Journalism and Political Science
Hometown: Fayetteville, North Carolina
Program: Homelessness and poverty in Washington, D.C.
Description: We worked at two locations all week. In the mornings, we served at D.C. Central Kitchen which puts out more than 5,000 meals a day to people who are food insecure. In the afternoons and evenings, we served at Central Mission, a men's shelter. We helped prepare meals, serve meals, clean, and spent time with the men. On Tuesday of our trip, Chancellor Loftin came and served with us at Central Mission. Then, on Thursday, we had the privilege of meeting Sen. Claire McCaskill and having coffee with her in her office. I am going back to D.C. this summer for an internship at the U.S. Capitol.
Caitlin Kerfin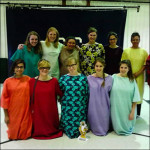 Major: Senior, Print and Digital News
Hometown: Lockport, Illinois
Program: Women's issues in Sisseton, South Dakota
Description: The women's issues trip I went on was very much a cultural exchange as well as a service trip on a Native American reservation. We cleaned and organized a domestic violence shelter and the nonprofit headquarters that runs it. We also had the honor of participating in Inipi (sweat lodge ceremony) and a naming ceremony where we witnessed firsthand traditions that have been passed down for generations. The dresses worn for Inipi are made out of cotton fabric and ribbon. Jewelry, nail polish and glasses are not allowed in the ceremony because it is believed your ancestors won't recognize you. We learned a lot about domestic and sexual violence and other prevalent issues on the reservation through conversation and documentaries.
Megan Suddarth
Major: Senior, Strategic Communication
Hometown: Lawson, Mo.
Program: Military children's art program in Fort Campbell, Kentucky
Description: While on this trip, I was privileged to travel to Fort Campbell, Kentucky, to do an art program with the little kiddos on the military base. Our theme was "Oh, The Places You'll Go," and each day had a different themed destination such as the safari or circus. We did crafts all week pertaining to each day – including making helmets during Space Day – and I really got to know these children and love them. It was one of the most wonderful weeks of my life and really changed me as a person. After returning from this trip, I decided to take the next year off after I graduate this May to volunteer abroad with children somewhere in the world.
Rachel Swinney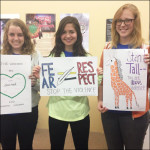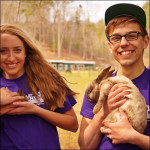 Major: Junior, Magazine Journalism
Hometown: Madison, Alabama
Program: Wac'Ang'A Sweetgrass Inc. in South Dakota
Description: Wac'Ang'A Sweetgrass is an organization working to end domestic violence against Native American women. We spent a week learning about historical trauma among native people, South Dakota culture as well as domestic violence and sexual assault.
Sianna Streeter
Major: Freshman, Radio-TV Journalism
Hometown: Tamworth, New Hampshire
Program: Organic farming in Hiawassee, Georgia
Description: A group of 12 students participated in an environmental service trip on an organic farm where we worked in the gardens, split wood and helped tend to the animals among other activities. We spent free time hiking, kayaking and sitting around a campfire.
Updated: July 24, 2020
Related Stories
Expand All
Collapse All
---