Luke Capizzo brings industry experience to role as newest strategic communication faculty at Missouri School of Journalism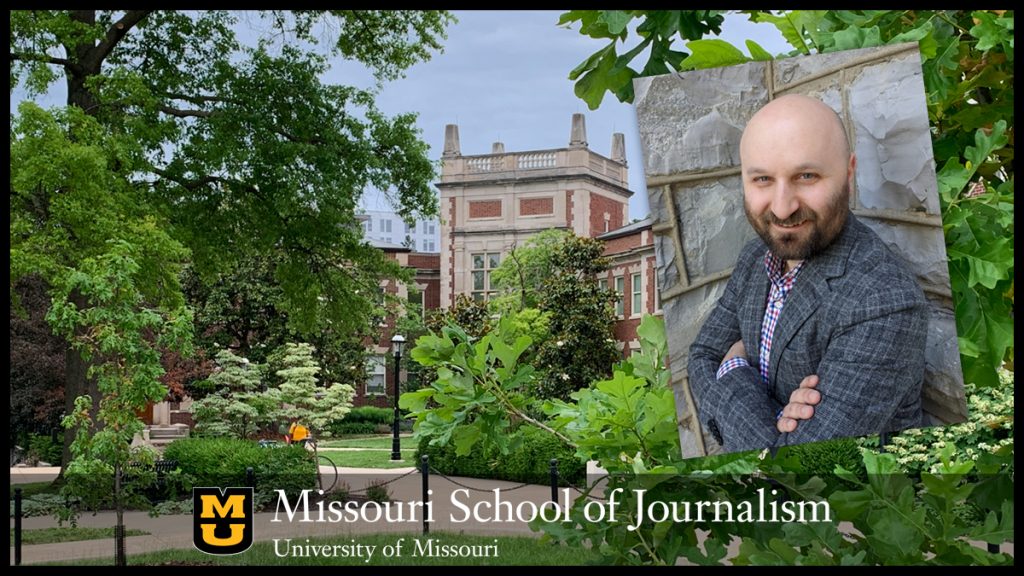 Columbia, Mo. (Aug. 24, 2022) — Luke Capizzo has joined the Missouri School of Journalism's strategic communication faculty as an assistant professor, capping a journey from the industry side of public relations to the world of research and teaching.
It's partly that journey that makes Capizzo an ideal fit for the School of Journalism's "Missouri Method" of education grounded in real-world experience; In imparting students with the knowledge he has gained from a career in public relations management, he will pay forward the benefits of his own hands-on education from mentors in the industry.
"After I graduated from Michigan State University in 2007, I sort of tripped and fell into a small PR agency job. I had no idea what I was doing, but I realized I loved the work," Capizzo said. "I learned from a number of former journalists about the basics of media relations, and I'm really grateful for the exposure that I had to their experiences and expertise."
That first job in Lansing, Michigan led to others with increasing responsibility. But after eight years of agency and in-house positions, including four with fittingly named PR firm Identity, he began to rethink his own professional identity.
"I was confident in my abilities, but I realized I did not see myself in agencies for the rest of my career," he said. "What I enjoyed the most was training younger staff and developing best practices, documenting the things we had learned over the years in ways that would be easy for people to understand and apply."
He soon realized those skills — training young people and documenting best practices — had natural counterparts in the academic world of higher education: teaching and research. He returned to school, earning master's and doctoral degrees in communication from the University of Maryland, and joined the faculty at James Madison University. And now, craving the opportunity to do more research and teach doctoral students as well as undergrads, he has arrived at the School of Journalism as an assistant professor.
Skating toward tough issues
Capizzo worked as a figure skating coach back in Michigan from the age of 16, and he brings a coach's sensibility not only to his teaching, but to his research, which broadly focuses on helping PR professionals navigate thorny issues. These are often social issues ranging from LGBTQ+ rights to racial justice, which businesses are increasingly engaging with through corporate social advocacy.
Still, like a good coach, he isn't satisfied with pursuing the status quo. With the help of a $4,500 Legacy Scholar grant from the Arthur W. Page Center, which promotes ethics in public communication, he and Dr. Andrea Martinez Gonzalez (James Madison University) are studying issues that are traditionally less prominent in research into corporate social responsibility, such as climate change and other focuses of environmental advocacy.
Applying a theory known as moral decoupling — which states that people tend to separate moral or social judgments from their evaluation of someone's performance — they are investigating how brands might benefit from publicly engaging in these potentially polarizing forms of advocacy.
"Today, corporations are expected to take stands," Capizzo said. "The idea is, if you're Nike and you take a stance in support of Colin Kaepernick, for example, there may be a small amount of people who say they're going to burn their Air Jordans. But for the most part, people will either agree with that stance, which will only strengthen their connection with the brand, or they will disagree but keep buying the shoes. Testing moral decoupling in this context can help us to understanding why social advocacy tends to work out in favor of the corporations that do it."
It's part of what he sees as public relations maturing as a field, a timely area of study for a seasoned strategic communicator who has only recently begun to own his potential as a teacher and researcher.
"As a profession, PR has some work to do, some higher values to aspire to," he said. "I like to pose it like this: what should PR be when it grows up?"
Updated: August 31, 2022
Related Stories
Expand All
Collapse All
---