Professor Tim Vos Earns Top Honor from American Journalism Historians Association
Research on the Origin of the Advertising Agency Wins 'Best American Journalism Article'
By Rebecca Dell
Columbia, Mo. (Oct. 13, 2014) — The crucial clue came from an item on eBay.
Tim Vos, professor and chair of the journalism studies faculty at the Missouri School of Journalism, was searching for the real roots of the first advertising agency. Former scholarly explanations, the most recent ones from the 1970s, were traced with wrong assumptions about a 19th century advertising agent named Volney B. Palmer. Vos thought that if he asked different questions, he could arrive at a better answer.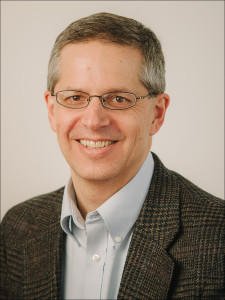 This year, the article that resulted from Vos' work received top honors from the media history journal American Journalism. "Explaining the Origins of the Advertising Agency," was selected as "Best American Journalism Article" for its originality, rigor and superb contribution to the field of journalism and mass communication history.
In the study, Vos takes a sociological institutionalism approach to explaining the origins of Palmer's advertising agency. The old theory, postulated in the pre-digital era, said that the advertising agency developed in response to a need for expanding markets during industrialization. Vos asked, instead, what about Palmer's experiences and competencies led him to advertising?
Then one day, Vos found a canal industry bank note on eBay. The treasurer's signature read V.B. Palmer. Another crucial discovery was that Palmer was a lawyer, able to draft his own contracts with newspapers. Tying the pieces together was the fact that the canals Palmer worked with could only charge tolls on full barges carrying coal to Philadelphia and Baltimore. In the 1840s, in order to fill the barges going back up the canals, Palmer started convincing city industries to market their wares to towns further up the canals. Thus, the advertising agency was born.
Judges had the following to say about Vos' article:
Tim's construct is remarkable in how he brings a sister discipline so strongly into play. The determining factor was in how he executed the argumentation and refutation so precisely and in such a delicate and nuanced way. It is the quintessential example of history taken seriously and handled with utmost care.
The best thing is that Vos uses his theoretical perspective ('institutionalism'), not just to blab about history, but to actually do history. He draws on theory to generate ideas, new questions, and novel avenues for doing real research. In fact, that is his main point: Social or political theory is useful only if it can be tested empirically. Theory should generate new empirical research. I think that is exactly right. And this article is a good example of how that can work.
Vos received his award at the American Journalism Historians Association conference in St. Paul Oct. 9-11.
Updated: October 22, 2020
Related Stories
Expand All
Collapse All
---