New Book Sheds Light on News Outcomes
'Gatekeeping in Transition' Reviews Economic and Tech Shifts in Journalism
Columbia, Mo. (June 24, 2015) — A new book sheds light on how news turns out the way it does in a digital media environment.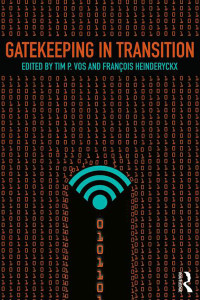 "Gatekeeping in Transition" (Routledge, 2015) challenges what many journalism scholars have accepted about the outcomes of news. Editors Tim Vos, an associate professor at the Missouri School of Journalism, and Francois Heinderyckx, a professor at the Universite libre de Bruxelles in Brussels, reviewed the recent seismic economic and technological shifts in journalism. These shifts come with new kinds of gatekeepers, new routines of news production, new types of news organizations, new means for shaping the news, and new channels of news distribution.
Given these changing realities, Vos said, some might ask if gatekeeping still matters.
The book's contributors examine the role of gatekeeping in the 21st century from organizational, institutional, and social perspectives across digital and traditional media, and argue for gatekeeping's place in contemporary scholarship about news and journalism.
Several Missouri journalism alumni are among the contributors to this internationally-minded anthology: Kjerstin Thorson, MA '07, assistant professor, University of Southern California, and Jane Singer, PhD '96, a professor of journalism innovation at City University London.
Updated: September 8, 2020
Related Stories
Expand All
Collapse All
---