Journalism Student One of 20 Undergraduates Selected to Present Research Projects to Missouri State Legislators
Hannah Reese Presents Mobile Application Project at Undergraduate Research Day at the Capitol in Jefferson City
By Lauren Elliott
Columbia, Mo. (March 19, 2014) — Hannah Reese, a junior dual major in journalism and English, presented her project "Adventures of a Hack: Revitalizing Victorian Literature Through a Mobile Application" at Undergraduate Research Day at the State Capitol in Jefferson City on March 4.
Reese was the only journalism student among the 20 University of Missouri students selected to participate. They, along with undergraduate researchers from all four UM campuses, presented their work to Missouri legislators.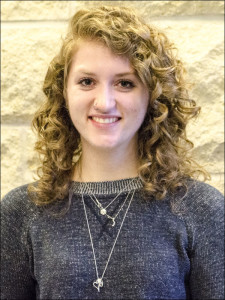 The purpose of the event is to demonstrate to legislators the opportunities that undergraduates have to conduct research with faculty at MU. The event also demonstrates the university's role in producing educated citizens who can help boost economic growth and improve the daily lives of Missouri citizens.
The "Adventures of a Hack" project explores digital humanities and is intended to be a learning tool for college-age individuals and academics with an interest in storytelling and digital humanities. Reese's mobile application combines creative gameplay and Victorian short fiction, allowing users to modify stories from a database of texts. By allowing users to make modifications, the goal is that they will be introduced to concepts of analysis, the richness of literature and become curious about literary practice.
"My research experience has allowed me to explore how English, stories and principles of English are applicable in a constantly evolving and changing digital age," Reese said.
Reese shares more on her "Adventures of a Hack" project:
My work focuses on choosing and preparing stories for use. I have coded 11 stories for gender, history and interiority. These codes allow players to change genders of characters, time period of the stories and the amount of internal reflection the characters engage in. I have also been involved in creating the systems of coding.
A beta version of the app will be available on the App Store in May.
Updated: July 22, 2020
Related Stories
Expand All
Collapse All
---