MU Researchers Expose Young Adults to News with Online Sports Game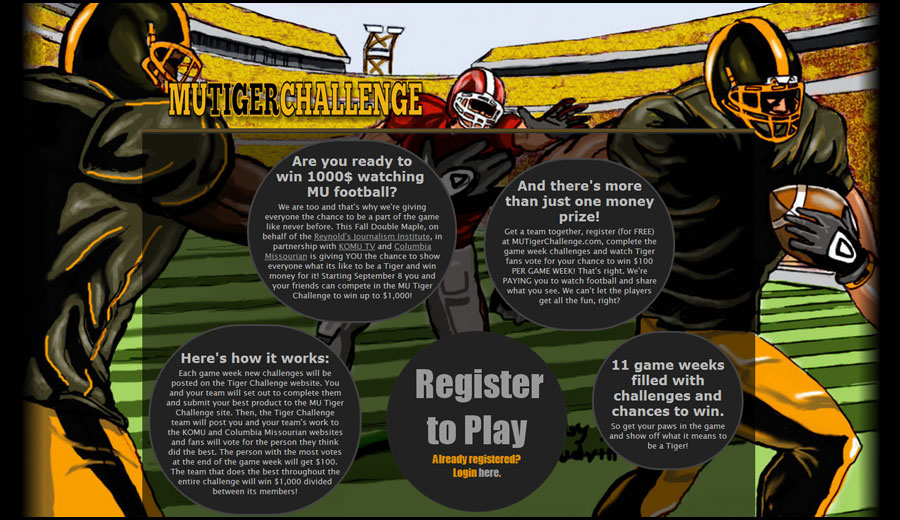 Media Organizations Can Customize Game Template to Engage Readers, Add Revenue
Contact: Nathan Hurst
MU News Bureau
By Kate McIntyre
Columbia, Mo. (Oct. 17, 2012) — More than 65 percent of Americans younger than 30 utilize the Internet as their main source for national and international news, according to the Pew Research Center. However, most young adults do not consciously seek out news online, but rather are exposed to it incidentally while searching for other information or doing non-news-related activities, such as visiting social networking sites or checking their email. Now, interdisciplinary researchers at the University of Missouri have created an Internet game that promotes school athletic spirit while engaging young people with the news.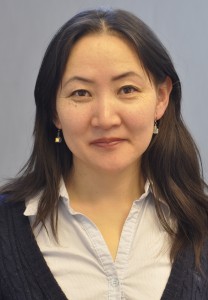 In her previous research, Borchuluun Yadamsuren, a researcher in the MU School of Information Science and Learning Technologies, found that Internet users often are exposed to news through "serendipitous discovery" rather than deliberate consumption. Young people are especially likely to be "news encounterers" who find news incidentally while surfing the Internet for different reasons, she says. As a part of her postdoctoral fellowship at the Reynolds Journalism Institute (RJI) at the Missouri School of Journalism, Yadamsuren created the MU Tiger Challenge to expose college students to news via a virtual social gaming environment.
"The media industry is concerned that young people are not paying enough attention to current news and important issues in society," Yadamsuren said. "If we can develop a strategy to post stories or links from credible sources in locations young adults normally use, such as on Facebook or gaming sites, we can hopefully attract them to news media."
Mizzou Tigers fans compete in MU Tiger Challenge by sharing photos, videos and other entries from game days. Weekly challenges have included describing the football game in two words, photographing the game-day setup or the most loyal fans, and videotaping people cheering or meeting the opposing fans. The game website also includes headlines and links to news stories in an effort to draw players into reading the news. Challenge entries are posted to the KOMU-TV and Columbia Missourian websites so readers and viewers can vote for the winners, who are awarded a weekly prize of $100.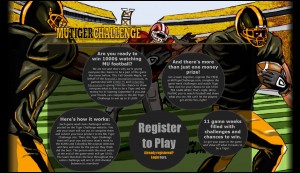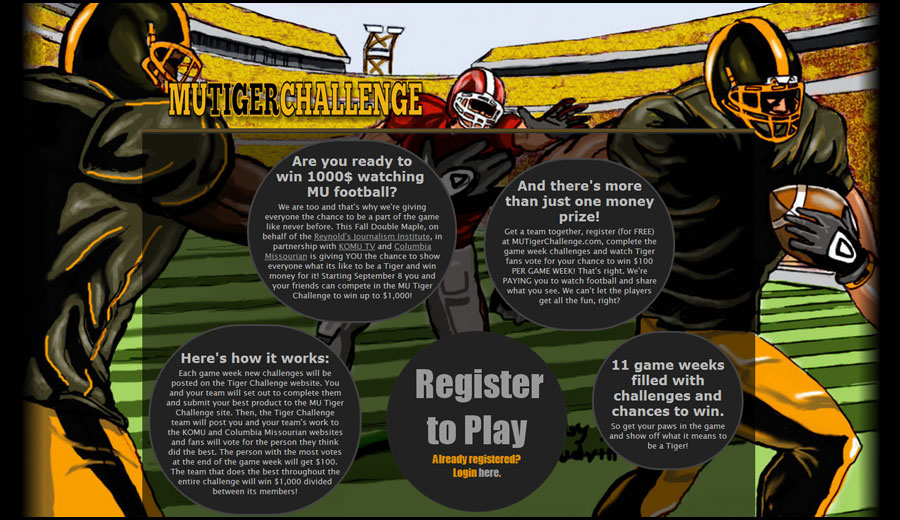 KOMU-TV is the only university-owned commercial television station in the United States that uses its newsroom as a working lab for students. The station is affiliated with both NBC and CNN. The Missourian is a digital-first publication that is supervised by faculty editors and staffed by journalism students.
Yadamsuren says that although MU Tiger Challenge will end with Mizzou's football season, she and the website development team lead by Joe Griffin, an MU College of Engineering alumnus, have created a customizable template that news organizations can personalize to topics important in their communities, such as politics, the environment or education, to create similar games that they can use to engage readers with their own news sites.
"Gaming is becoming more popular because of portable devices," Yadamsuren said. "By creating fun, interactive games, news organizations can incidentally expose people to news. There is opportunity for added revenue and better business models, as well as future research on how we can better engage and inform community members."
The MU Tiger Challenge is the result of a partnership among RJI, the Missouri School of Journalism, the Columbia Missourian, KOMU-TV and software company Double Maple.
Updated: July 10, 2020
Related Stories
Expand All
Collapse All
---