New Book by Missouri Journalism Faculty Shows the Important Roles that Journalism Plays in Our Country's Democracy
Columbia, Mo. (July 13, 2007) — Journalism is vital to the health of our democracy, the glue of information that holds this complex nation together, according to a new book by 12 members of the Missouri School of Journalism faculty.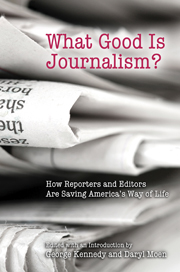 What Good Is Journalism? How Reporters and Editors Are Saving America's Way of Life, edited by George Kennedy, professor emeritus, and Daryl Moen, professor, shows that there is much to be praised about the state of American journalism today.
"Journalism tells us most of what we know about the world beyond our own experience by going where its audience cannot or will not," said Kennedy. "It keeps watch on the government and other powerful institutions, exposes wrongdoing and injustice, and shares the endless fascinations of everyday life."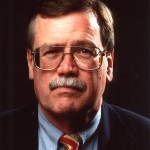 Through stories of real people, the chapters trace the development of free expression through American history and show how the principles of journalism that Americans take for granted are playing a revolutionary role in emerging democracies.
The subjects of those stories, some famous and some unknown, range from American heroes such as John Peter Zenger and Ida B. Wells to Fatmire Terdvice, an investigative reporter who risks her life with every story in today's Kosovo.
Other chapters detail the remarkable growth of NPR, examine the community-building role of a small daily newspaper, and show the importance of investigative reporting. There is even a chapter suggesting how citizens can demand the quality of journalism they want and need.
What Good Is Journalism? includes the results of a national survey, undertaken exclusively for this book, that reveal how Americans really view and use the press. The survey shows, as others have, that news consumers object to what they see as bias and intrusiveness. However, these consumers also place great value on journalism's roles as watchdog, explainer and informer. Overall, they believe what they read and hear. With all its faults, they say, journalism is important in their lives.
The chapters and authors are:
Americans and Journalism: We Value but Criticize It
By George Kennedy and Glen Cameron, the Maxine Wilson Gregory Chair in Journalism Research
Journalism: The Lifeblood of a Democracy
By Sandy Davidson, associate professor, and Betty Winfield, University of Missouri Curators' Professor
NPR Offers News and Companionship
By Geneva Overholser, Curtis B. Hurley Chair in Public Affairs Reporting
The Hometown Newspaper Builds Community
By Judy Bolch, Houston Harte Chair in Journalism
Watchdogs of Government Serve Citizens
By Wes Pippert, associate professor and director of the Washington Program
Journalism Builds New Democracies
By Byron Scott, professor emeritus
Investigative Reporting Saves Lives
By Brant Houston, professor and executive director of Investigative Reporters and Editors
Computer-Assisted Journalism Creates New Knowledge
By David Herzog, assistant professor, and Brant Houston
How to Get the Journalism You Deserve
By Stuart Loory, the Lee Hills Chair in Free Press Studies
What Good Is Journalism? How Reporters and Editors Are Saving America's Way of Life (ISBN 978-0-8262-1730-1, $37.50 cloth) (ISBN 978-0-8262-1731-8, $19.95 paper) is available at local bookstores or directly from the University of Missouri Press. Individuals placing orders should include $5.00 shipping and handling for the first book and $1.00 for each additional book.
Updated: April 20, 2020
Related Stories
Expand All
Collapse All
---