Byron Scott Retires, Earns Professor Emeritus Status
By Janelle Walker
Columbia, Mo. (April 27, 2006) — Missouri School of Journalism professor Byron Scott, known as "Scotty" to his colleagues and students, will retire effective this August and earn emeritus status. He has been a Missouri faculty member in the magazine journalism sequence for 20 years.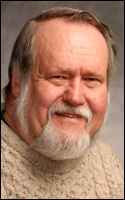 Scott joined the School in 1986 as its first endowed chair, the Meredith Chair in Service Journalism. In 1992, he helped to found the first Western-style journalism program in a former Iron Curtain nation at the American University in Bulgaria. Two years later, Scott was named the School's first international coordinator. Since that time, he has participated in journalism education in 46 different countries around the world. Scott has lectured and taught workshops in many of the nations of the former Soviet bloc including Armenia, Albania, Bulgaria, the Czech Republic, Georgia, Macedonia, Mongolia, Poland, Hungary, Romania and the Ukraine. His research and teaching interests include the role of the media in transitional societies and international investigative reporting.
"Scotty's generous heart and gregarious smile will be missed at the School. From Moldova to Missouri he could talk and teach journalism with exuberance and insight," said Jan Colbert, chair of the magazine journalism sequence.
Scott's dream was to attend the School when he graduated from high school.
"I didn't go to school here, but teaching here was even more rewarding," said Scott. "Working with Dean Mills and having the opportunity to pursue my international work was great."
Scott began his career as a newspaper and magazine journalist in Miami, Chicago, Washington, D.C., New York and Long Beach. He previously headed the magazine sequence at the E.W. Scripps School of Journalism at Ohio University. Scott is a member of the Association for Education in Journalism and Mass Communication (AEJMC) and the American Association for the Advancement of Slavic Studies (AAASS). He earned the 1999 Provost's Award for International Education and was the School's McIntyre Professor for 2002-2003.
But even after his emeritus status begins, Scotty plans to continue to research and work on publications about his efforts to reform journalism in transitional countries. He hopes to keep working with the School's international projects and with master's and doctoral students.
Scott plans to spend more time with his wife, Beverly, along with their children and grandchildren. He will continue his theatre work with Columbia's Maplewood Barn Community Theatre, where he has acted and directed for more than 18 years. This season, Scott will portray Dr. Watson in "Sherlock Holmes and the Dangerous Game" and will direct "Macbeth."
Updated: April 9, 2020
Related Stories
Expand All
Collapse All
---