Kyle Stokes Earns a National Mark of Excellence Award from the Society of Professional Journalists
By Joan Niesen
Master's Student
Columbia, Mo. (Aug. 19, 2009) — Kyle Stokes, a junior in the convergence journalism program at the Missouri School of Journalism, will receive a 2008 national Mark of Excellence Award at the Society of Professional Journalists' upcoming convention.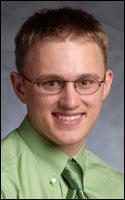 The award program strives to identify and honor young journalists and their excellent work, according to Holly Edgell, the SPJ region 7 director and a member of the School's radio-television journalism faculty.
"Kyle is a complete journalist," said Edgell. "He embraces the profession with gusto, high journalistic standards and creativity. He's shown excellence in convergence and television as well as radio. This award is well-deserved."
Stokes' entry, titled "Lincoln School Memories," originally aired on KBIA-FM. It treats the issues of race and community and tells the story of a group of people who attended an all-black school in Vandalia just before segregation was outlawed. Years later, the community group tries to restore their dilapidated former school and transform it into a community center for the struggling town.
"Lincoln School Memories" was one of more than 3,600 entries submitted in 39 categories for print, radio, television and online collegiate journalism across SPJ's 12 regions in 2008. The contest, which is open only to students with no full-time professional experience, operates on both the regional and national level. Regional winners in each of the entry categories move forward to the national competition. Entries were judged based on accuracy, originality, significance, clarity and creativity.
Stokes will be officially recognized during the 2009 SPJ Convention and National Journalism Conference on Aug. 27-30 in Indianapolis. The awards will be distributed at the Mark of Excellence luncheon on Friday, Aug. 28.
The Missouri chapter of the Society of Professional Journalists is one of the largest student chapters in the country and has more than 130 members. Charles Davis, an associate professor of journalism, is the chapter's adviser.
Updated: May 5, 2020
Related Stories
Expand All
Collapse All
---