O.N. Pruitt 'Possum Town' Exhibit Prompts Alumnus to Visit the School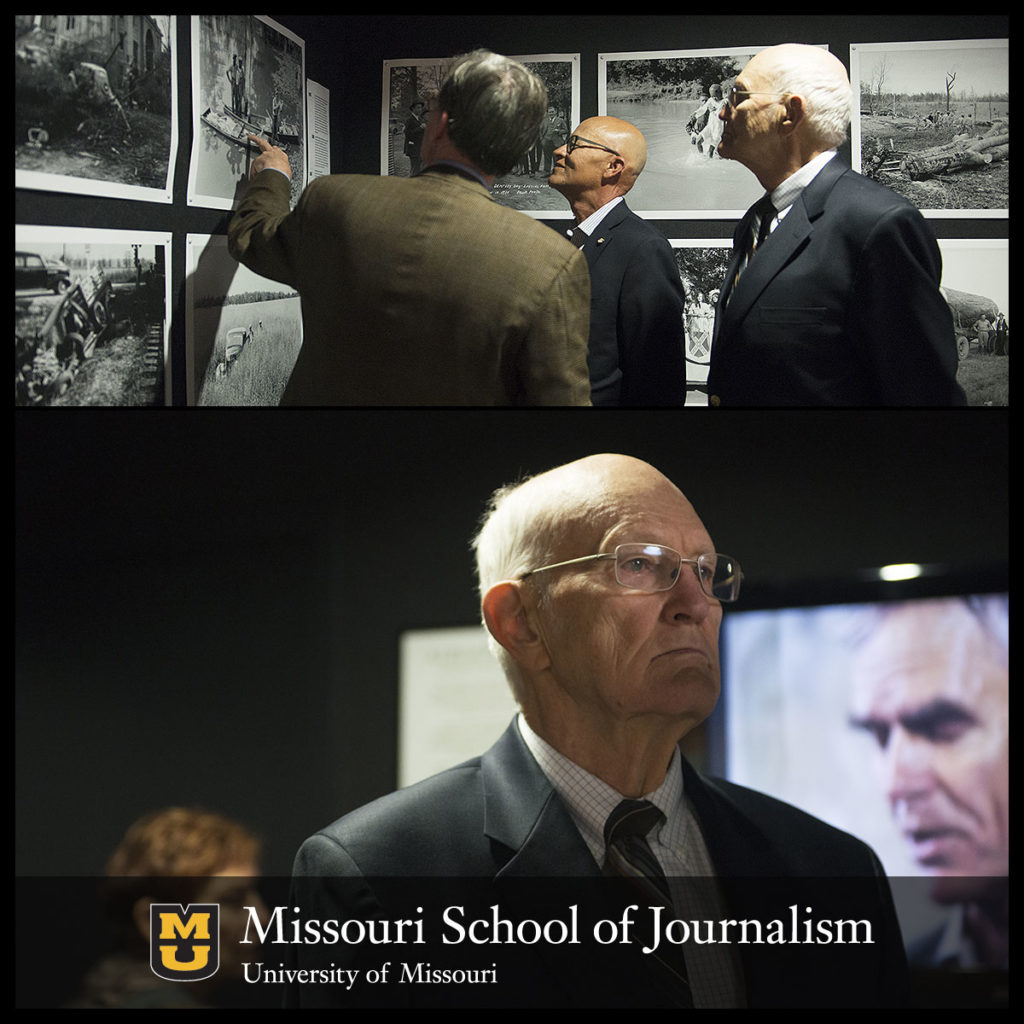 Jim Turner, BJ '52, was prompted to return to the MU campus after spotting an item about an exhibit of historic photographs from Mississippi in the Missouri School of Journalism monthly newsletter.
Jim Turner, BJ '52, Served as a US Civil Rights Attorney; His Career Spanned 9 Presidents
By Sally Cochran and Beckie Jaeckels
Journalism Discovery Fellows
Columbia, Mo. (May 10, 2017) — When Jim Turner, BJ '52, scanned a Missouri School of Journalism monthly newsletter, an item about an exhibit of historic photographs from Mississippi caught his attention.
Turner, who became a lawyer after graduating from the journalism school, witnessed history first-hand in the American South during the second half of the 20th century. He served as one of the Justice Department's top civil rights attorneys. His career spanned nine presidents from Eisenhower to Clinton. His first key prosecution focused on four members of the Ku Klux Klan who killed Viola Liuzzo during the Selma to Montgomery march in 1965. Among his last prosecutions centered on two Los Angeles Police Department officers accused of police brutality against Rodney King.
So it was with great interest that he read about Associate Professor Berkley Hudson's exhibit, "Possum Town: Mississippi Pictures of Trouble and Resilience." Turner, who lives in suburban Washington, D.C., was prompted to return recently to his alma mater to see the exhibit of photographs dating from 1920-1960. The images, made by O.N. Pruitt, include everything from river baptism to court-ordered execution and the 1935 lynching of two African-American farmers. Pruitt was a white photographer working in the era of racial segregation, and he photographed black and white alike.
Turner and his wife, Anita Stephens, who worked as the assistant U.S. attorney in Washington, returned to campus Saturday, April 29, to visit the two exhibitions on display in the journalism school.
At the Justice Department, Turner had another Missouri connection: He was the boss of the supervisor of former University of Missouri System Interim President Mike Middleton. Middleton came to the Justice Department straight out of University of Missouri School of Law in 1971 and worked as an employment discrimination lawyer in Civil Rights Division until 1974. At the exhibits, Turner and Middleton reunited for the first time in about 25 years.
As Turner, Stephens, Middleton, and Hudson entered the McDougall Center Gallery of Lee Hills Hall, each came equipped with their own means of connecting with the photographs. Turner held a tight grip on his blue Selma-to-Montgomery baseball cap that commemorated the 50th anniversary of the march; Stephens held a camera to document the moment. Middleton, who was born in Jackson, Mississippi, came with the mental framework of his grandfather as a professional black photographer in Jackson during the first half of the 20th century; Hudson, with a wealth of knowledge that culminated in the exhibits.
The four spent two hours taking shelter from the Missouri rain among images of the South's past. Later, Turner, Stephens and Hudson visited the lynching marker, "Lest We Forget", which commemorates the 1923 lynching of MU medical school custodian James T. Scott. Their interest in civil rights and racial violence also led them to Scott's gravesite in Columbia Cemetery.
Turner was a silent observer for most of his visit, calmly absorbing the videos and photographs in the McDougall Center Gallery and Reynolds Journalism Institute. Hudson's voice filled the rooms, relating tales of interactions with viewers of the photographs and painting an image beyond what Pruitt captured in his frame.
"I can go too deep into these pictures," Hudson said, breaking out of a storytelling trance.
"Keep going," Turner insisted. He was captivated by the history of one of the states in which Turner had been responsible for enforcing federal laws.
Turner served in the Civil Rights Division for 17 straight attorneys general in nine national administrations – Eisenhower to Clinton. He was responsible for enforcing federal laws in Mississippi and Alabama in the mid-1960s, during the peak of the Civil Rights Movement.
Turner, a first-generation college student, graduated from the Missouri School of Journalism in 1952 with an emphasis in radio journalism. He married a journalism classmate, Jean Curtis, also BJ '52, and they had four children; Curtis died in 1975. While at MU, Turner roomed with Roy Reed, BJ '51, MA '54. Reed covered civil rights for the New York Times, including "Bloody Sunday" in Selma, Alabama, in 1965. He later worked in the Washington bureau covering the White House, then opened the New Orleans bureau, and after that staffed the London bureau. Now, Reed is an University of Arkansas journalism professor emeritus.
The day after graduation, Turner was commissioned as a Marine lieutenant, serving in Japan and Korea. He then graduated from the University of Colorado Law School and began working at the Justice Department in Washington. Turner worked with William Rehnquist before Rehnquist became the Chief Justice of the Supreme Court. The two were in the Justice Department and made speeches together in the 1960s.
During his career, Turner made four oral arguments in the Supreme Court. In the 1970s, he prosecuted Donald Trump for racial discrimination at Trump housing developments; the case was ultimately settled out of court. Turner also tried to prosecute the "Bloody Sunday" Alabama Highway Patrol but was blocked by the grand jury's vote to not indict.
He retired in 1994 after 25 years as the Civil Rights Division's career deputy assistant attorney general.
Updated: October 20, 2020
Related Stories
Expand All
Collapse All
---