Associate Professor Berkley Hudson Receives President's Award for Service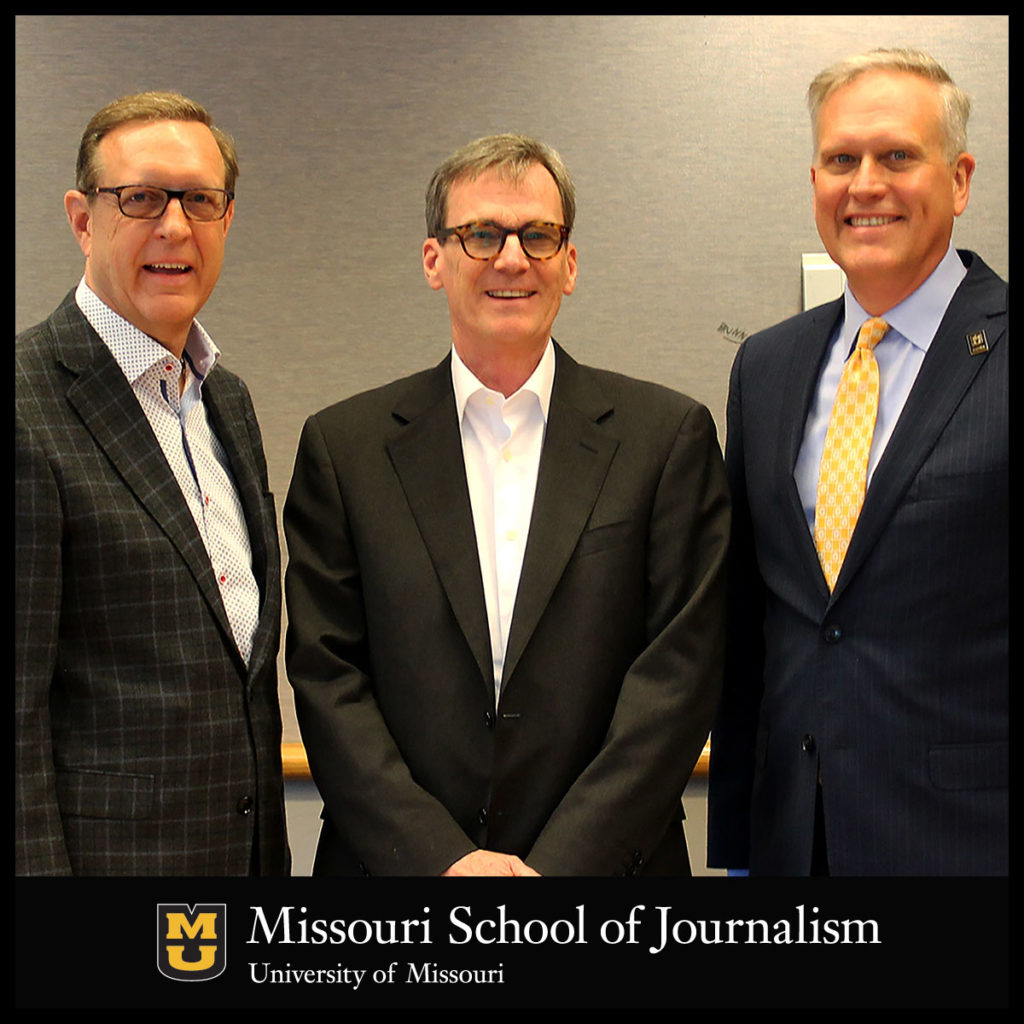 Associate Professor Berkley Hudson, center, stands with UM System Senior Associate Vice President for Academic Affairs Steve Graham, left, and Missouri School of Journalism Dean David Kurpius.
The Award Recognizes Faculty for Distinguished Service and Exceptional Contributions to the University of Missouri
Columbia, Mo. (April 14, 2017) — University of Missouri System Senior Associate Vice President for Academic Affairs Steve Graham today awarded the sixth of 10 UM System President's Awards to be presented to faculty in 2017 to University of Missouri Associate Professor of Journalism Berkley Hudson.
Graham – joined by Missouri Dean of Journalism Dean David Kurpius – surprised Hudson in front of colleagues gathered for a faculty meeting with the President's Award for Service, which includes a $5,000 prize. The award recognizes faculty for distinguished service and exceptional contributions to achieving the goals of one of the four University of Missouri campuses or to the UM System.
Hudson spent 25 years in the journalism industry as a writer, newspaper editor and magazine editor for the Los Angeles Times and the Providence Journal in Rhode Island, which earned him several regional and national awards. His freelance work also has appeared in national magazines. Atop his own list of special achievements is being named chair of the campus-wide MU Faculty Council's Race Relations Committee.
"I seek this award to bring attention to race relations," he wrote in his personal statement as part of the nomination application. "Our work is not done. This award can let everyone know that, too, and emphasize how can we follow the Mizzou spirit of Respect, Responsibility, Excellence and Discovery, and accentuate how the University of Missouri can become a local, regional, national, and global leader in teaching, research, service and economic development in race relations."
Hudson joined the Missouri School of Journalism in 2003. Among his many accolades and accomplishments is a 2015 Kemper Fellow for Teaching Excellence award. Hudson's colleagues cite his work in the area of race relations as the bones of his work.
"Berkley encouraged much-needed dialogues at the nucleus of the committee's work, he took the charge of that committee and wore its mantle," wrote nominators Kurpius and Jennifer Rowe, magazine journalism faculty chair. "Beyond the 2015-16 academic year, he has ensured that conversations extended into our classrooms and the Columbia community and that the broader world could learn from what we, the MU family, experienced."
Under his leadership, the committee developed a script to help people discover how to talk about race, and they recorded training videos. Throughout the last two years, Hudson has facilitated conversations, listened to faculty and students, spoken to news media outlets and kept a spotlight on the solutions. In fall of 2016, he issued a 90-page report outlining steps for the campus to take.
"Dr. Hudson assumed the challenge of bringing together constituents on the Mizzou campus to build understanding about racism on our campus and develop a plan for managing the tensions associated with it," MU College of Education Dean Kathryn Chval wrote in a nomination letter. "As committee chair, Dr. Hudson shepherded a diverse group on 12 members. Throughout the process, he has been honest and authentic as he interacted with large numbers of colleagues and students on our campus."
The UM System President's Awards are presented annually to faculty members across the four campuses of the UM System who have made exceptional contributions in advancing the mission of the university. Hudson will be formally recognized by UM System President Mun Choi during an awards celebration to be held in June.
Updated: October 16, 2020
Related Stories
Expand All
Collapse All
---