New Photojournalism Exhibit Captures Challenges and Everyday Life of African Americans Over the Past 60 Years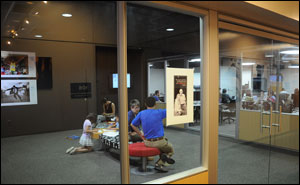 By Dolores Obregon
Planning and Communications Staff
Columbia, Mo. (Feb. 14, 2011) — In recognition of Black History month, the Angus and Betty McDougall Center for Photojournalism Studies at the Missouri School of Journalism presents Black in America: Three Visions of the African American Experience. The three-part exhibit, which captures the major challenges and everyday life of African Americans over the past 60 years, will be on display in the McDougall Center Gallery from Feb. 1 to March 15.
The three exhibits are:
Charles Moore: Photographs That Made a Difference
Charles Moore's photography defined the Civil Rights Movement in the South. The accompanying video, "Charles Moore: I Fight With My Camera," adds context through interviews with the artist about his experience.
Documenting the Black Experience in Rural Missouri
These photographs, created by various photographers over 63 years of the Missouri Photo Workshop, show everyday scenes: a couple of women sitting on a porch swing, a doctor's visit, a teacher helping a student.
Young, Black & Greek
As part of an ongoing project called Beyond This Place, Jarrad Henderson documents the everyday life and special events for members of Black Greek Letter Organizations.
The McDougall Center, funded through proceeds from an endowment established by the Angus and Betty McDougall in 2007, preserves collections of photographs by newspaper, magazine and documentary photographers. The images are available for archival, research, exhibition and educational use.
Updated: May 20, 2020
Related Stories
Expand All
Collapse All
---