Recent Alumnus Wins First Place Hearst Photojournalism Award
Columbia, Mo. (Dec. 8, 2005) — Chris Detrick, a 2005 photojournalism graduate of the Missouri School of Journalism, won first place in the photojournalism competition of the 2005-06 Hearst Journalism Awards Program. This was the first Hearst photojournalism competition of this academic year, entered by 74 students from 43 journalism schools nationwide.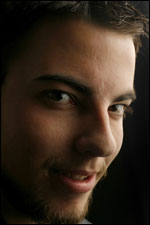 "Chris Detrick is a fantastic photojournalist. He loves life and lives it to the fullest, which is reflected in the intensity of his pictures," said David Rees, associate professor and chair of the photojournalism sequence. "He has an insightful eye and brings all of his personal experience and educational background into his picture-making."
Detrick recently was hired as a staff photographer at the Salt Lake City (Utah) Tribune, where he completed an internship in the summer of 2005. He also has interned at the Baltimore (Md.) Sun, freelanced for Life Magazine and Getty Images and served as photo editor at the Columbia Missourian.
"It is an honor to be recognized by Hearst for my photography," Detrick said. "Thank you to the photojournalism department at the University of Missouri for providing me with the solid foundation to excel."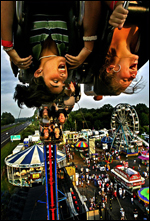 Detrick has won six College Photographer of the Year awards, including a gold medal in "Sports Portfolio," silver medals in "Domestic Picture Story" and "Personal Vision," and three Awards of Excellence in "Portfolio" and "Sports Action." He recently competed in the Atlanta Photojournalism Seminar and took first and third place in the "Sports Action" category, in addition to garnering second place and an honorable mention in two other categories.
"He is a skilled technician and a tireless worker," Rees said. "We are all very proud of Chris and pleased for the recognition of his work in Hearst and in the recently-completed College Photographer of the Year competition."
The Hearst Journalism Awards Program, which is now in its 46th year, added photojournalism to the competitions in 1970. The annual photojournalism competitions are held in member colleges and universities of the Association of Schools of Journalism and Mass Communication with accredited undergraduate programs. The program also includes six writing contests and four broadcast news competitions, offering more than $400,000 in scholarships to undergraduate journalism majors with matching grants to their respective schools.
Updated: April 8, 2020
Related Stories
Expand All
Collapse All
---