Missouri School of Journalism Grad Wins Hearst Photojournalism Award
Columbia, Mo. (April 25, 2005) — Lara Shipley, a recent photojournalism graduate from the Missouri School of Journalism, was awarded fifth place in the Picture Story/Series Competition of the 2004-2005 Hearst Journalism Awards Program. This was the third and final Hearst photojournalism competition of this academic year, entered by 44 students nationwide.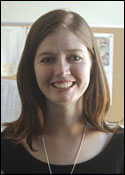 "Lara's story is from her heart. She picked a subject she cares about, and that comes across in the images. She put together a clear story with a strong focus. We are introduced the plant and the town, and then we meet some of the young victims. This is a story that matters, and I'm glad she was recognized for her work," said Jackie Bell, assistant professor.
Shipley, BJ '04, is from Warsaw, Mo. She recently spent one month in Peru documenting the environmental and health crisis resulting from a metallurgic plant in a small Andean town, La Oroya. Last year, Shipley spent nine months in Costa Rica, where she interned as a photographer for a national paper, La Nacion.
The Hearst Journalism Awards Program, which is now in its 45th year, added photojournalism to the competitions in 1970. The annual photojournalism competitions are held in member colleges and universities of the Association of Schools of Journalism and Mass Communication with accredited undergraduate programs.
The photojournalism judges were Kirk D. McKoy, Senior Photo Editor, Los Angeles Times, California; Clem Murray, Senior Photographer, The Philadelphia Inquirer, Pennsylvania; and Leslie A. White, Photo Assignments Editor, The Dallas Morning News, Texas.
Shipley has also received awards from the College Photographer of the Year competition and the Atlanta Photojournalism Seminar Contest.
Updated: April 6, 2020
Related Stories
Expand All
Collapse All
---