Students, Faculty Receive 3 Top-Three Placements in National Photo and Design Contest
A Front Page of Joplin, Mo., After the Tornado Earned First Place
By Nathan Allen
Master's Student
Columbia, Mo. (Oct. 28, 2011) — Missouri School of Journalism students and faculty received three top awards in the National Press Photographers Association's (NPPA) "Best Use of Photography" quarterly clip contest.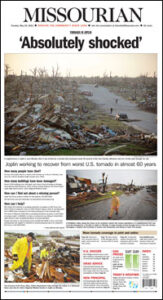 The award-winning work was published in the Columbia Missourian. The contest recognizes individuals and publications that recognize and encourage photojournalism excellence.
The contest celebrates the great relationships between photographers and designers, according to Brian Kratzer, associate professor and director of photography at the Missourian.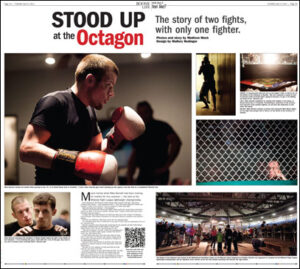 "These awards are great examples of how our designers and photographers work together," he said. "We have a symbiotic relationship. If one team doesn't hold up their end, the storytelling will suffer. So it takes good communication between the photo editors and the designers."
In the "News Page" category, "Absolutely Shocked" received first place. The page was the front page of the Missourian the day after the tornado in Joplin, Mo. The team of Kratzer along with students Clint Alwahab, Jonathan Hinderliter and Justin Myers beat out teams from the St. Petersburg Times and the Los Angeles Times.
In the "Feature Page" category, "Stood Up at the Octagon" from April 5 came in second place behind the Commercial Appeal in Memphis. The page featured photos of an aspiring mixed martial arts fighter who continually got "stood up at the octagon." Kratzer along with students Allison Pasek, Eve Edelheit, Madison Mack, Polina Yamshchikov and Mallory Redinger all contributed to the page. The page beat out those submitted by The Oregonian in Portland and The Washington Post.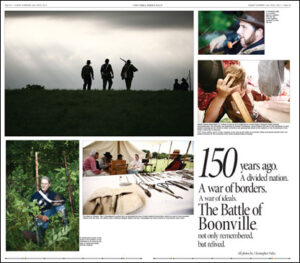 The Missourian received third place in the "Picture Page" category for "150 years ago. A divided nation." The page featured the town of Boonville. The team was composed of Kratzer, Alwahab, Hinderliter and Redinger. The Palm Beach (Fla.) Post won the category and the Missourian finished in front of the Los Angeles Times.
Kratzer said the awards are great but not the main reason students and faculty submit their work.
"I see the awards as lines on our students' resumes that may help them get jobs or provide great talking points during interviews," he said. "This is their work, their product. I just stand in the background and nudge accordingly."
Kratzer continued, "When some of these national papers see they are getting beat by the Missourian and see the names of the students who beat them, they may remember those names when the students are applying and interviewing for jobs."
Updated: June 4, 2020
Related Stories
Expand All
Collapse All
---