Graduate Student Earns Top Honors for Photo Story on Marriage of Lesbian Couple
National Lesbian and Gay Journalists Association Honors T.J. Thomson with a First Place in Photojournalism in its Excellence in Journalism Awards
By Annie Rees
Columbia, Mo. (Sept. 10, 2015) — Soon after 16th Circuit Court Judge J. Dale Youngs ruled that 10 same-sex Missouri couples could marry last fall, Becky Plovanich and Karen Bataille, a Columbia couple who had been engaged for 13 years, decided to get married.
T.J. Thomson, then a master's student in photojournalism, had been looking for subjects for his Picture Story and Photographic Essay class. He found them in Plovanich and Bataille.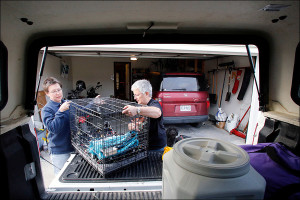 On a cold day in November 2014, Thomson met Plovanich and Bataille in a cafe and explained why he wanted to document their upcoming wedding. After conversing for more than two hours, the couple agreed to let Thomson photograph their wedding in Carlinville, Illinois.
The resulting picture story, "More Than a Formality," covering Plovanich and Bataille's journey to Carlinville and their marriage, was recently awarded first place in the photojournalism category of the National Lesbian and Gay Journalists Association's Excellence in Journalism Awards.
Thomson, currently a doctoral student studying visual communication at the Missouri School of Journalism, completed his master's degree in photojournalism this summer. "More Than a Formality" was part of his course work in the Picture Story and Photographic Essay class, taught by Professor Rita Reed. It was published in the Columbia Missourian in November 2014.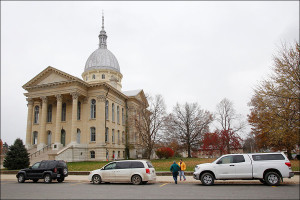 A few days after their initial cafe meeting, Thomson met Plovanich and Bataille at their home at 7:30 a.m. They loaded up the car and drove 165 miles to Carlinville, where the wedding would take place the next day. Thomson sat in the back with Koda and Madison, the couple's two dogs, and two bags filled with enough personal effects for an overnight and lots of camera gear – two camera bodies, multiple lenses, extra batteries.
"This was a once-in-a-lifetime opportunity," Thomson said. "I wanted to make sure I had redundancies in place."
The singular nature of the story made it particularly special. "In Picture Story, we talked a lot about the importance of doing a story with meaning and worth," Thomson said. While queer rights and lesbian, gay, bisexual, transgender issues appeal to Thomson, he said he especially wanted Plovanich and Bataille's photo story to capture a pivotal experience between Columbia locals that would resonate emotionally with the larger community.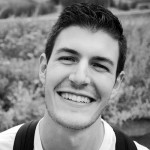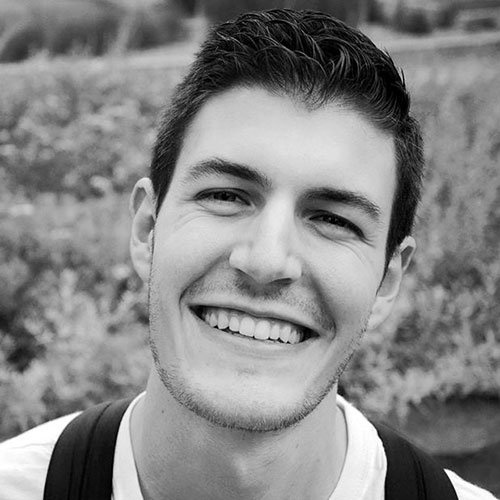 "It can be hard for viewers to relate with a words-only approach," Thomson said. "Sometimes, words can be so specific that viewers dismiss them as relevant to only a certain group. Visuals are less so. They require interaction and often have greater generalizability and evocative impact. Being confronted with a picture can be so much more powerful."
Missourian Director of Photography Brian Kratzer and Education Editor Elizabeth Brixey served as supervising editors for Thomson's 10-picture photo story and written piece.
The NLGJA Excellence in Journalism Awards were established in 1993 to foster and recognize excellence in journalism on issues related to the lesbian, gay, bisexual, transsexual communities. Awards were also presented for excellence in news writing, feature writing, opinion writing, blogging, network television, radio, online, HIV/AIDS coverage and student journalism.
Thomson serves as president of the Mizzou NLGJA student chapter.
Updated: September 10, 2020
Related Stories
Expand All
Collapse All
---