2 Journalism Students Selected as David Kaplan Memorial Fellows
Both Receive Paid Positions at ABC News Washington Bureau and a $15,000 Stipend
By Caroline Murray
Columbia, Mo. (Oct. 22, 2014) — Stephanie Ebbs and A.J. Feather have been selected as David Kaplan Memorial Fellows at ABC News in Washington, D.C. This is the first time in the 22-year history that two fellows have been selected.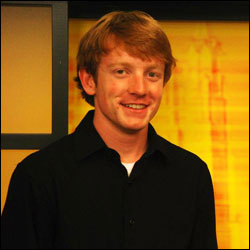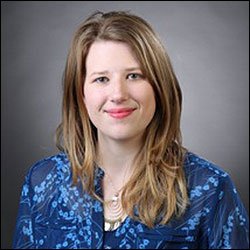 Ebbs, a master's student, and Feather, a senior, will spend the spring semester working in paid positions at the ABC News Washington Bureau. The students will also each receive a $15,000 stipend.
"ABC News has greatly benefitted from having Kaplan fellows each year," said Robin Sproul, vice president of public affairs for ABC News. "These two candidates seemed particularly well suited to gain from the experience we can give them in D.C. A.J.'s passion for all things political, and Stephanie's strong writing skills and interest in D.C. news were just some of the attributes that attracted us to these two candidates."
Stephanie Ebbs, BJ '13, has focused her undergraduate and graduate studies in the areas of public policy, investigative and data work, audience engagement and political science. Ebbs works as assistant director of community outreach at the Columbia Missourian, where she has held multiple positions over the last three years. She has also held internships at the St. Louis Post-Dispatch, Thomson Reuters and Missouri Digital News. She works as a writing tutor at the University of Missouri Writing Center. Ebbs is from Carbondale, Illinois.
Ebbs commented about her selection:
"I hope that my work in this fellowship shows current students that your emphasis area doesn't define the kind of work that you do outside of school. There's no set path to a career in journalism. A lot of publications are still figuring things out as they want to hire people with diverse sets of skills. I think the fact that the committee saw that my skills are valuable to a broadcast organization – even though my degree says "print and digital" – shows that there are a lot more career possibilities out there than you might expect."
A.J. Feather is a senior with a dual major in economics and journalism with an emphasis in business and economics journalism. Feather has spent much of his life in politics, volunteering and serving as chairman of the Missouri Federation of College Republicans. He now hosts a weekly political show on KBIA, "Talking Politics," where he covers statewide and local politics. He also works as a producer, anchor and writer for Newsy.com. Feather is from Jefferson City.
Feather commented about his selection:
"The Missouri School of Journalism has given me the opportunity to gain a lot of real-world experience I wouldn't have had anywhere else. Whether it was hosting at KBIA, writing in the Futures Lab or producing at Newsy, I have gained a wealth of experience I hope to use as I leave Columbia and start the next stage of my reporting career."
The Kaplan fellowship was founded by ABC News anchor Sam Donaldson to honor the life of highly regarded ABC News producer David Kaplan, who died while covering war in Sarajevo in 1992. The annual fellowship is awarded to a Missouri School of Journalism student who has an interest in network field producing.
"David Kaplan is an inspiration," Feather said. "I hope to help carry on his mission of producing solid journalism."
Updated: July 31, 2020
Related Stories
Expand All
Collapse All
---