Master's Student Brian Johnson Awarded David Kaplan Memorial Fellowship
He Will Intern at the ABC News Washington Bureau in Spring 2012
By Nathan Allen
Master's Student
Columbia, Mo. (Nov. 17, 2011) — Brian Johnson, a master's student at the Missouri School of Journalism, has been awarded the David Kaplan Memorial Fellowship, which will provide him with a spring internship at the ABC News Washington Bureau.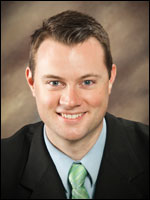 The fellowship, which was created in 1993, is named in honor of the late David Kaplan, a field producer and friend of Sam Donaldson of ABC News, who was killed by a sniper in Sarajevo. Donaldson, whose wife is an alumna of the School, wanted to provide an opportunity for Missouri students interested in careers as behind-the-scenes reporters and researchers through work in the network's D.C. office.
Johnson had planned on completing his master's project as an investigative reporter for KOMU-TV. Then Johnson received an e-mail from Kent Collins, chair of the radio-television journalism faculty, suggesting he apply for the Kaplan fellowship. Johnson interviewed with four faculty members and with Donaldson before learning of his selection. Johnson said he hopes his time in Washington, D.C., will help him gain more knowledge about working on the national network level.
During the spring 2011 semester Johnson worked with Mark Horvit, associate professor and executive director of Investigative Reporters and Editors, to develop a package of stories about the City of Columbia's parking utility.
"Brian worked on an investigative project last semester and was relentless in pursuit of documentation, open records and key interviews," said Horvit.
Johnson graduated from Brigham Young University-Idaho in 2010 with a degree in communications. He worked for university's media outlets as a reporter, anchor, producer, news director and online content manager.
Updated: June 4, 2020
Related Stories
Expand All
Collapse All
---