Missouri School of Journalism senior Shoshana Dubnow awarded prestigious Kaplan Fellowship at ABC News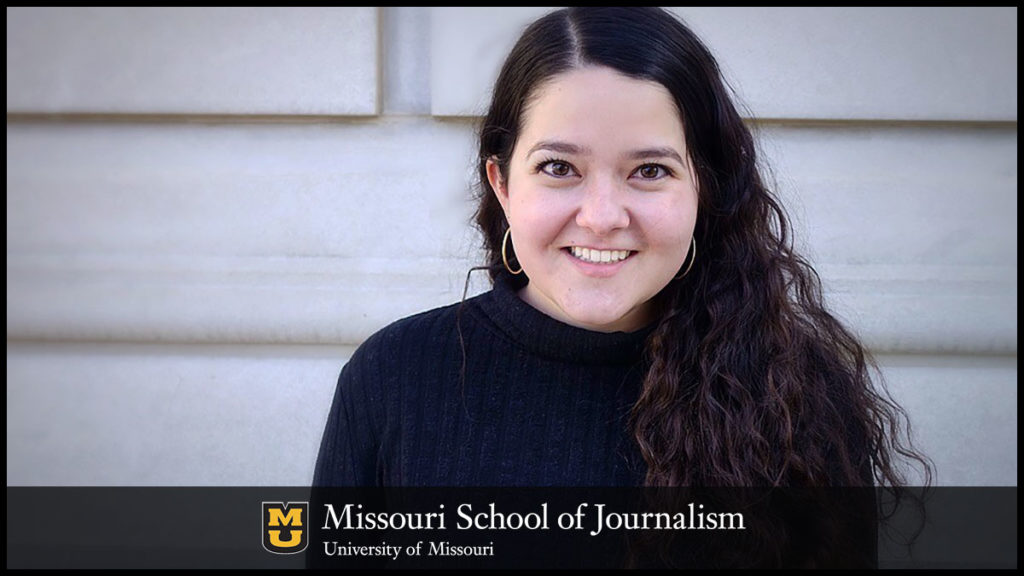 Missouri School of Journalism senior Shoshana Dubnow has been named the 27th David Kaplan Memorial Fellow. Along with a $10,000 stipend, Dubnow will receive a full-time, paid position at ABC News for the 2020 spring semester.
She has hands-on experience from KOMU-TV, State Government Reporting Program and Euronews
By Jennifer Nelson
Columbia, Mo. (Oct. 8, 2019) — Missouri School of Journalism senior Shoshana Dubnow will work at ABC News Washington Bureau in Washington, D.C., next semester as the 27th David Kaplan Memorial Fellow.
Amy Thomas, manager, Bureau Affairs at ABC News, selected Dubnow of Scottsdale, Arizona, from a pool of four Kaplan Fellowship finalists identified by a faculty screening committee from the Journalism School. There were 20 applicants this year.
"Shoshana stood out among the applicants with her thoughtful and creative answers about subjects from radio to production," said Thomas. "Her experience will be an asset to this fellowship."
Along with a $10,000 stipend from the Kaplan Fellowship fund, Dubnow, who is majoring in convergence TV reporting, will receive a full-time, paid position for the 2020 spring semester.
In the past, Kaplan Fellows have worked with shows including This Week with George Stephanopoulos and Good Morning America, assisted ABC's reporters with breaking news in the field and written stories for ABCNews.com.
"I'm looking forward to rotating through the ABC newsroom and seeing where I fit best," said Dubnow. "I plan to ask tons of questions, introduce myself to journalists I admire and volunteer for every opportunity along the way."
This past summer Dubnow traveled abroad to Brussels and worked as a multimedia journalist at Euronews, a TV news network. In this role, she assisted with reporting on the 2019 European elections and various summits about the European Union's next leaders. This work opportunity confirmed her desire to work in a fast-paced national newsroom as a multimedia journalist, she said. She said she is excited about the prospect of working in a place where national decisions are being made and just months from the next presidential election.
Wanting to help "make complex political issues digestible for an everyday viewer," she applied for a fellowship.
During her academic career, Dubnow has also worked for KOMU-TV, the school's NBC-affiliate TV station, as a reporter and digital producer. She is looking forward to seeing how ABC News utilizes various platforms for sharing content, she said.
She has also worked for the Missouri State Government Reporting Program's new wire service, where she created radio segments from hearings at the state capitol. These segments were often picked up by radio and TV stations across the state.
"After spending time in Jefferson City and Brussels, Shoshana is ready for the challenge that producing in Washington, D.C., will bring," said Associate Professor Amy Simons, who serves on the Kaplan Fellowship faculty selection committee. "She's innately curious, listens intently to what those around her are saying, and has the skill to weave it all into meaningful storytelling that informs as well as entertains."
About the David Kaplan Fellowship
The David Kaplan Fellowship honors the memory of David Kaplan, who was a producer for ABC's Sam Donaldson. Kaplan was killed while on assignment for ABC News in 1992 in Sarajevo, Bosnia. Donaldson, a 40-year veteran reporter, correspondent and anchor for ABC News, created the program with funds that he and his colleagues donated to honor Kaplan.
The Missouri School of Journalism was chosen to award the fellowship due to its renowned reputation for hands-on training of both reporters and producers.
Updated: November 10, 2020
Related Stories
Expand All
Collapse All
---