Senior Allison Pecorin Named the 25th David Kaplan Fellow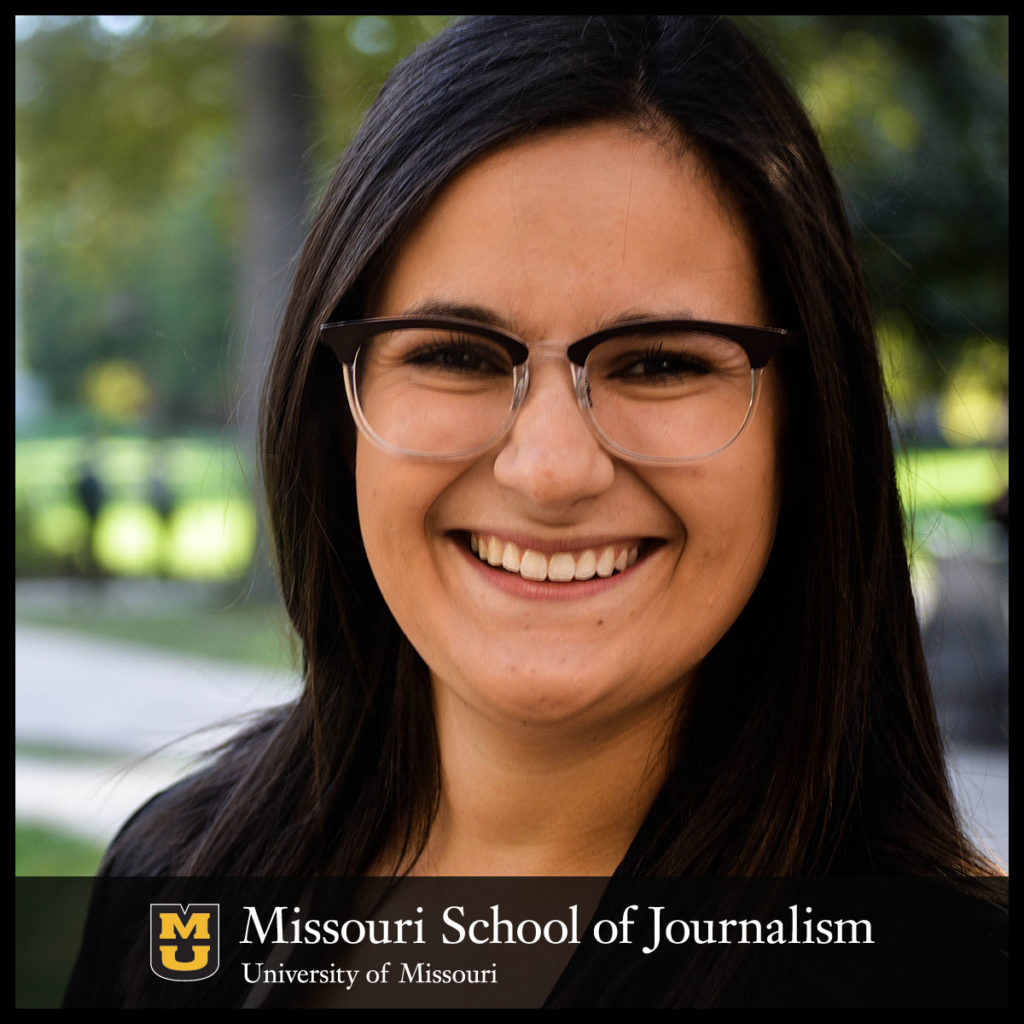 She Receives a $10,000 Award and Paid Internship at ABC News Washington Bureau
Columbia, Mo. (Oct. 27, 2017) — Allison Pecorin, a convergence journalism senior, will head to Washington, D.C., in the spring as the Missouri School of Journalism's David Kaplan Memorial Fellow. Students selected for the program spend the semester working behind the scenes at the ABC News Washington Bureau.
Pecorin, the 25th fellow, is from Naperville, Ill. She was selected from an applicant pool of 15 students. Stacia Deshisku, deputy Washington bureau chief, made the final decision to award Pecorin with the Kaplan Fellowship.
According to Mike McKean, an associate professor who has chaired the Kaplan Fellowship selection committee since it began in 1992, Pecorin made a special connection during her interview.
"It was almost like she and the ABC News deputy bureau chief were interviewing each other, or having a newsroom management discussion," McKean said. "Allison was so convincing in explaining how her convergence skills would apply to the bureau's digital strategy that Stacia (the deputy bureau chief) said, "That was the same speech our head of digital gave last week!"
Along with a $10,000 stipend from the Kaplan Fellowship fund, Pecorin will receive a full-time, paid position for the 2018 spring semester with the ABC News Washington Bureau.
Journalism has been a long-time passion for Allison, who said she has wanted to be a journalist for as long as she can remember. "There's never been a moment of my life during which I questioned whether journalism was for me. I've always known," Pecorin said. "Each new journalistic challenge that I come across just makes me love the profession more. My specific journalistic interests have evolved over time, but the Missouri School of Journalism really helped me find my passion in mixed-media storytelling."
According to McKean, Pecorin will be exposed to all of the bureau's divisions, then given a choice between such things as writing stories under her byline for ABCNews.com, covering Supreme Court, federal appeals court and Congressional hearings, and doing stakeouts of government officials involved in breaking news. She'll share notes with on-air correspondents, capture and edit video, and more.
"I'm incredibly excited to learn from industry leaders who have really gotten their feet wet covering this administration," Pecorin said. "I'm hoping to gain insight into how to cover politics through multiple diverse lenses, learn more about what it means to bring coverage to new platforms and new spaces, and gain an innovative multi-platform skill set."
Percorin says she has a passion in telling political stories that reach people who feel they cannot understand political news. She got a taste for political reporting her sophomore year.
"My interest in politics began while I was working with Missouri Digital News in the Missouri Capitol Building," Pecorin said. "From there, I went on to intern for the Kansas City Star as a legislative reporter during the 2017 legislative session. I have loved every moment of covering state politics, and have long had my eyes set on covering the national political scene."
The fellowship honors the memory of David Kaplan, who was a producer for ABC's Sam Donaldson. Kaplan was killed while on assignment for ABC News in 1992 in Sarajevo, Bosnia. Donaldson, a 40-year veteran reporter, correspondent and anchor for ABC News, created the program with funds that he and his colleagues donated to honor Kaplan.
"I'm absolutely floored and honored to have been selected as the 25th Kaplan Fellow," Percorin said. "It is incredibly cool to know that I'll be carrying the torch of the remarkable journalists who have come before me in this fellowship. To be selected for a memorial fellowship holds a really specific honor. It means so much to be working to carry on the namesake of David Kaplan."
The Missouri School of Journalism was chosen to award the fellowship due to its renowned reputation for hands-on training of both reporters and producers.
Sam Donaldson "chose Missouri because his wife was a Missouri School of Journalism graduate and knew about our program and knew that we were one of the few places in the country that actually trained students to be newscast producers as well as off-camera reporters," McKean said. "Clearly, the Kaplan Fellowship is a life-changing opportunity for our students."
Pecorin will join the ranks of former fellows who have gone on to successful careers. The previous fellows are:
2016-17: Riley Beggin (Digital News Producer at KPCC/Southern California Public Radio, Los Angeles)
2015-16: Andrea Gonzales (Investigative Associate Producer, WJLA-TV, Washington D.C.)
2014-15: Stephanie Ebbs (Production Assistant, ABC News, Washington D.C.) and A.J. Feather (Podcast Producer, Bloomberg Politics (New York)
2013-14: Alex Mallin (Digital Journalist, ABC News, Washington D.C.)
2012-13: Mary McGuire (Reporter, WCCO-TV, Minneapolis)
2011-12: Brian Johnson (Reporter/Multimedia Journalist, KMBC-TV, Kansas City)
2010-11: Nick Gass (Communications Specialist, Koch Industries, Washington D.C.)
2009-10: Boris Korby (FX and Rates Team Leader, Bloomberg News, New York)
2008-09: Teri Finneman (Asst. Prof. of Journalism, South Dakota State University)
2007-08: Melissa Chee (Associate Marketing Manager, Providence Health and Services, Portland, Ore.)
2006-07: Jia Zhou (Associate Director, Programmatic, Spark Foundry, New York)
2005-06: Theresa Wieberg Cook (Freelance Multimedia Journalist, London)
2004-05: Ross Todd (Bureau Chief, The Recorder, San Francisco)
2003-04: Christina Caron (Reporter, The New York Times, New York)
2002-03: Sara Lane (Coordinator of Career Services, College of Agriculture and Life Sciences, North Carolina State University)
2001-02: Trin Zhuo (Head of New Product Development, Gartner Information Technology and Services, Arlington, Va.)
2000-01: Farrah Fite (Media Relations Director, The Missouri Bar, Jefferson City, Mo.)
1999-00: Caroline Noel Cooper (Public Affairs News Producer, Sinclair Broadcast Group, Arlington, Va.)
1998-99: Susan Batt (13 Investigates and Special Projects Producer, WTHR-TV, Indianapolis)
1997-98: Luana Kelly Slaughter (School Partnerships Manager, Atlanta Public Schools)
1996-97: Rich Kurz (News Director, KOIN-TV, Portland, Ore.)
1995-96: Karl Mattson (Sr. Vice President, Fillr, San Francisco)
1994-95: Sam Templeton (Communication and Change Management Contractor, Alaska Airlines, Seattle)
1993-94: Alyssa Adams (Executive Producer, Arizona Horizons/Arizona PBS, Phoenix)
Pecorin hopes to stay in Washington D.C. upon graduation. "I want to continue to be in newsroom spaces and to think about ways to reach new audiences. I want to tell political stories in innovative ways and across multiple platforms."
Even though Pecorin didn't expect to spend her last semester of college in Washington, she is definitely up for the challenge. "I go knowing that I have the most incredible support system in my family, friends and MU J-School community. I can't wait to get started."
Updated: October 26, 2020
Related Stories
Expand All
Collapse All
---