Master's Student Mary McGuire Named 2013 David Kaplan Memorial Fellow
She Receives a $10,000 Award and Paid Internship at ABC News' Washington Bureau
By Celia Darrough
Columbia, Mo. (Oct. 23, 2012) — Mary McGuire, a master's student at the Missouri School of Journalism, has been awarded the 2013 David Kaplan Memorial Fellowship. She will receive a $10,000 award and a paid internship at ABC News' Washington Bureau.
Her selection marks the 20th anniversary of the fellowship program, which was created by Sam Donaldson of ABC News to honor journalist David Kaplan, who was killed on assignment in Sarajevo, Bosnia, in 1992.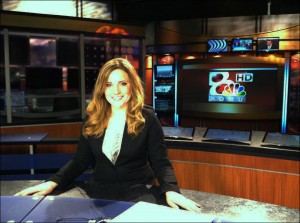 McGuire, who has focused her work on political and investigative reporting, applied for the fellowship after encouragement from Elizabeth Frogge, managing editor at KOMU-TV.
Frogge said McGuire has been a go-getter in her advanced reporting class and is among the first to volunteer for challenging and controversial stories.
"Mary doesn't shy away from the tough issues and will go to great lengths to get all sides of the story," Frogge said.
McGuire worked in Jefferson City as a statehouse reporter for Missouri Digital News, and she has worked as an anchor, producer, reporter and writer for KOMU and Newsy.
In August, she covered the primary elections for KOMU and produced a long-form piece on politicians' crisis recoveries during election season.
"I'm very pleased to see Mary be able to represent Missouri for the Kaplan Fellowship," Stacey Woelfel, news director at KOMU, said. "She brings a high level of maturity and intelligence to the position and will make us all very proud back here in Columbia. I really look forward to hearing about all she'll get to do at ABC once she is in place."
McGuire, who works in the Investigative Reporters and Editors resource center, plans to work on her master's professional project while in Washington, D.C. She hopes to examine the concept of news media views on individual privacy and what private information the media publish. IRE is one of 10 professional organizations headquartered at the School.
McGuire said after covering the primary and general elections for the past few months, she is looking forward to working in the Washington bureau.
"I'm extremely excited, especially in the wake of the election season, to embark on this new journey in Washington D.C.," she said.
McGuire, a native of Edina, Minn., graduated from Loyola Marymount University in 2011 with a bachelor of arts degree.
Updated: July 10, 2020
Related Stories
Expand All
Collapse All
---