Missouri School of Journalism partners with MU Institute for Data Science and Informatics to revolutionize research on news deserts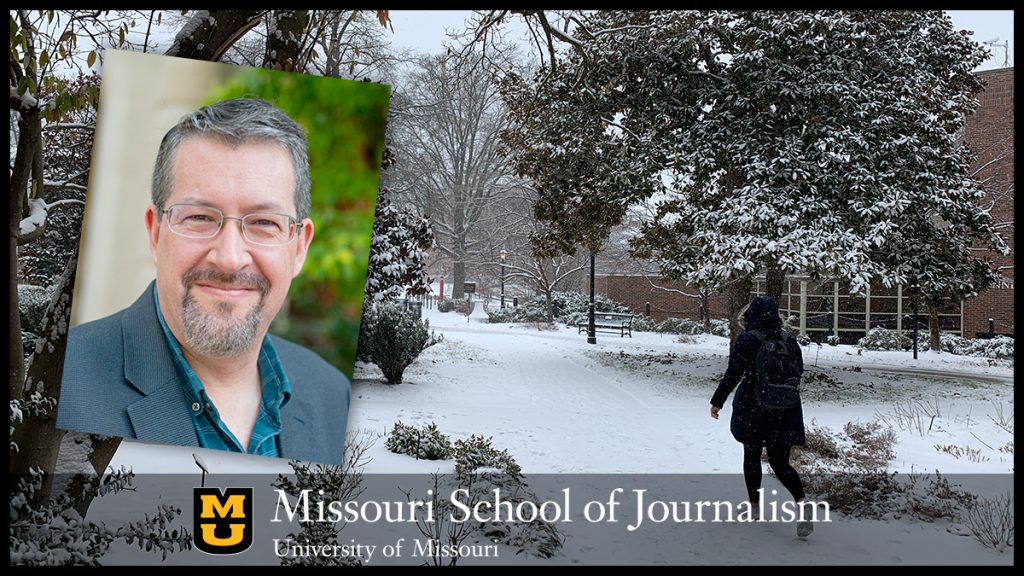 COLUMBIA, Mo. (Feb. 8, 2023) — An ongoing research project conducted in partnership between the Missouri School of Journalism and the MU Institute for Data Science and Informatics has received a $25,000 grant to support a more accurate method of analyzing news deserts, which arise when communities lose access to local news.
The grant comes courtesy of the Inasmuch Foundation, which supports a range of community-centered projects in the realms of education, health, journalism and more. The foundation's support will give the project, led by Damon Kiesow of the School of Journalism and Chi-Ren Shyu — director of the institute — a solid foundation as it seeks to improve how large-scale analyses of the local news ecosystem are conducted.
"This project is yet another example of collaborative, impact-driven work from our faculty that makes a real difference in peoples' lives," said David Kurpius, dean of the School of Journalism. "Local news is a vital resource for staying informed and engaged within any community, and the School of Journalism is deeply invested in building and expanding that resource for everyone."
Local news, national perspective
The topic of news deserts is of momentous importance to the industry, and research like Penny Abernathy's annual report on the state of local news adds to the field's understanding of how news organizations serve rural communities. At Mizzou, Kiesow and Shyu are developing a different approach to this research that addresses gaps in the current methodology. They plan to use data gleaned from digital news stories nationwide to create an automated algorithm that will identify coverage areas and news deserts with greater accuracy and efficiency.
"There are limits when we are basing our understanding of news deserts on where a newsroom is physically located," said Kiesow, Knight Chair in Digital Editing and Producing at the School of Journalism. "Coverage can cross counties, zip codes and even state boundaries. When you're trying to ask specific questions about the depth and breadth of a newspaper's coverage, it's not the most accurate."
Traditionally, the answer to that drawback has been to manually review articles from a region's news outlets to gain a precise understanding of coverage areas. These reviewers must then tag each story based the quality of its coverage for a given area.
While producing more accurate results, that method is laborious, expensive and virtually impossible to scale up to a nationwide level. Kiesow's answer is to take the best of both worlds: the broad impact and scale of a nationwide study combined with the finely tuned detail of a manual review — though, in this case, the algorithm will do the work of an army of graduate students. It will zero in on a series of "critical information needs" to evaluate how well stories cover the communities they relate to, then compile those results in a database that will allow researchers to compare coverage across outlets over time.
"What if we want to understand the impacts of mergers, hirings or firings of journalists on the industry nationally?" Kiesow added. "We can't just look at New Jersey, for example, if we want to understand the big picture of what's going on with journalism, with corporate ownership, with digital startups and radio and TV. We need to be able to capture the content newsrooms are producing nationwide, and we need some way to classify that journalism algorithmically."
The result, Kiesow said, is that regions that appear to be news deserts might instead turn out to be oases and vice-versa.
Broader impacts
The project is just one of the ways that the School of Journalism — along with its world-class centers, such as the Donald W. Reynolds Journalism Institute and the Novak Leadership Institute — is prioritizing research that engages directly with community needs. A key part of that mission is securing outside grant funding, which not only expands the potential of current projects but creates new opportunities for work that produces tangible benefits such as quality reporting, support for the industry in rural and underserved areas, and enhanced civic engagement from audiences.
Kiesow noted that a key factor in landing the Inasmuch grant was the presence of Alysia Beaudoin, the School's grants and contracts administrator, who is dedicated to both making researchers aware of funding opportunities and helping them prepare the best possible proposals.
"There is such a wide range of opportunities to ask outside entities to fund the work we're doing, whether it is research or another form of service to the community," Beaudoin said, pointing to projects like Kiesow's but also to the School's six professional news outlets, which benefit from community funding and grants to continually improve their operations. "If I know what people are working on, I can keep my eyes open and find a broad range of sponsors."
With 15 years of grant experience across a number of fields and disciplines, she has already made her mark in less than two years at the School, where she has helped to cultivate a culture of engagement with the grant-seeking process.
"The role Alysia plays is crucial to the research we do here," said Earnest Perry, associate dean of graduate studies and research. "Faculty like Damon Kiesow are making sure our practical and research work has a positive and significant impact on the communities we serve, and Alysia is helping those faculty work collaboratively to secure more funding and increase their impacts."
For Kiesow, those impacts are of fundamental importance at a time when local news — simultaneously one of the most trusted and most imperiled forms of journalism in the country — is at a critical juncture. In introducing an ideal marriage of scale and accuracy to the field of news desert research, Kiesow and Shyu aim to forge a path toward more targeted solutions to one of the industry's most pressing challenges.
Updated: February 23, 2023