MSNBC Managing Editor Rashida Jones Headlines 4th Annual Unity Conference
'Journalism 20/20: The Future of Journalism' Shared Advice on Personal Growth and the Future of the Journalism Industry
By Seinga Macauley
Columbia, Mo. (Nov. 30, 2015) — Future changes in digital journalism, career expectations and personal goal-setting were key topics of the 4th annual Unity Conference at the Missouri School of Journalism.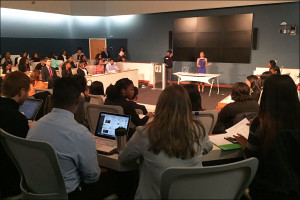 "Journalism 20/20: The Future of Journalism" was sponsored by the National Association of Black Journalists (NABJ) Alé Chapter, the Online News Association and the Radio Television Digital News Association. NABJ organized the School's first Unity Conference by in 2012. The goal of the event is to promote diversity and unite student chapters of journalism organizations in the Missouri School of Journalism for professional development and networking.
Keynote speaker Rashida Jones, MSNBC managing editor, told the students to only go into journalism is if they're passionate about the field.
"Journalism is such a complicated industry, it's so challenging; it changes by the minute," Jones said. "There are lots of other fields out there that you can pick up, and there are other ways to be a journalist. If you really want to be a next-level journalist that's coloring the history of our world, that's the only reason you should be on this path."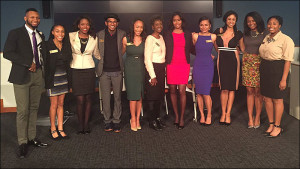 Jones said it was easy to talk to the students about the need to adhere to responsibility, fairness and truth because they were so engaged and interested.
"They made it easier for me to just speak from the heart and from the right note," Jones said.
Other speakers included Dorothy Tucker, national NABJ vice president of broadcast journalism, and several journalism faculty members.
Students appreciated all the advice received throughout the conference.
"Unity was really cool this year, especially since the workshops were really engaging," sophomore Sana Moore said.
The MU NABJ chapter was named national Chapter of the Year by the national organization in 2014 and was a recipient of the NAACP Organization of the Year award in 2013. Professors Earnest Perry and Cynthia Frisby serve as chapter advisers.
Support provided by the William Randolph Hearst Endowment for Visiting Professionals, established in 1990 at the Missouri School of Journalism by the William Randolph Hearst Foundation.
Updated: September 14, 2020
Related Stories
Expand All
Collapse All
---