Missouri Honor Medalist Lincoln Stephens Presents 'Life Is A Pitch' Workshop
Stephens Joins Other Journalism Alumni to Share the Importance in Personal Branding
Columbia, Mo. (Nov. 17, 2015) — The National Association of Black Journalists (NABJ) Ale Chapter at the University of Missouri hosted 2015 Missouri Honor Medalist Lincoln Stephens, BJ '03, during the "Life Is A Pitch" workshop and reception.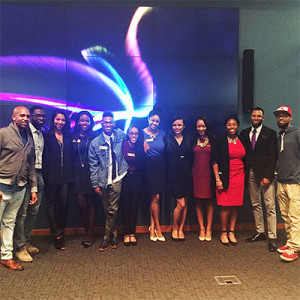 This workshop was a special celebration for Stephens who was awarded a Missouri Honor Medal, along with eight other recipients, the day before the workshop for his efforts in increasing diversity in the advertising industry. Stephens was a member of MU's NABJ chapter while a student.
Stephens is a co-founder of a nonprofit organization called the Marcus Graham Project. Based in Dallas, the program is focused on using mentorship, career exposure and development to make up a pool of talent with the experience of working with real-world clients.
With the theme "The Power of Personal Branding," Stephens and three other Missouri School of Journalism graduates shared career experiences, insight into the Marcus Graham Project and the importance of a personal brand. Those participating were Paanii Annan, BJ '14, assistant account manager, Leo Burnett, Chicago; Adora Jenkins, BJ '03, senior vice president of external affairs, Information Technology Industry Council, Washington, D.C.; and Devin Woodson, BJ '11, brand strategist, LockerDome, New York.
"There was a lot of conversation about how to improve myself, both professionally and personally, and I really appreciated that," senior journalism major Brianna Arps said.
From job interviews to career changes, panelists shared career experiences and informed students about the evolution of the advertising industry and the many ways young professionals can succeed.
"There's a continued need to make sure we engage our future more, and that we raise our hands and say we want to come back and share our experiences. That's what this was for," Stephens said.
Students also learned how personal branding can take them a long way in the advertising industry.
"I thought it was refreshingly honest on how working in the advertising industry is and how successful you can be," freshman Erica Winston said. "You can actually be successful as a young person."
The National Association of Black Journalists is a group of journalists and media professionals at the University of Missouri. Their main purpose focuses on striving for excellence by encouraging diversity, educating through mentorship and promoting unity in the field of journalism. The MU chapter was named national Chapter of the Year by the national organization in 2014. Also, the MU chapter was the recipient of the NAACP Organization of the Year award in 2013. Professors Earnest Perry and Cynthia Frisby serve as chapter advisers.
Updated: September 14, 2020
Related Stories
Expand All
Collapse All
---