St. Louis PBS Station to Air University of Missouri President's Roundtable Discussion on Sunday, Jan. 18
Top Executives, Communication Experts Discussed Changing Communications Landscape during the Recent Missouri Journalism Centennial/Dedication Celebration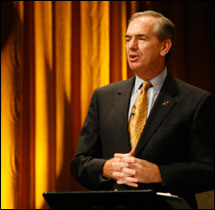 Columbia, Mo. (Jan. 15, 2009) — A spirited, thought-provoking discussion of how evolving communication tools, technologies and techniques are changing the world will premiere at 1 p.m., Sunday, Jan. 18, on KETC/Channel 9 in St. Louis, the nation's most watched public television station.
"The President's Roundtable: Communication for a Digital Globe" is an edited version of a conversation that was held during the September 2008 centennial/dedication celebration of the Missouri School of Journalism and the Donald W. Reynolds Journalism Institute (RJI). Approximately 1,000 people participated in the event.
The hour-long show looks at the challenges – and identifies winning strategies – to dealing with constant technological changes in communication. The discussion features viewpoints from people as diverse as a chief executive officer of a major company to an average citizen who is learning to live in a digital world.
The distinguished discussion leaders shared some of their struggles – and triumphs – of the most pressing communications issues of our time, including credibility and trust, social media, mobile content, the emergence of video and environmental sustainability. Gary Forsee, University of Missouri president, hosted the event. Russ Mitchell, BJ '82, anchor and correspondent for CBS News, moderated the forum. Participating in the President's Roundtable were:
Sue Bostrom, chief marketing officer, Cisco
David Dorman, chairman of the board, Motorola Inc.
Mark Hoffman, MA '80, president, CNBC
Carol J. Loomis, BJ '51, senior editor at large, Fortune Magazine
Amy McCombs, BJ '68, BA '69, MA '72, former president and CEO of Chronicle Broadcasting
Dave Senay, president and CEO, Fleishman-Hillard International Communications
Ralph de la Vega, president and CEO, AT&T Mobility
The President's Roundtable was one of the premier events held during the Sept. 10-12 centennial/dedication celebration attended by approximately 2,500 alumni, students, citizens, journalists, communicators and academic leaders from all over the world. The three-day event featured more than 35 Futures Forum sessions, 27 Technology Summit sessions, 11 exhibits and displays, four musical and theatrical performances, two dinner events, book signings, tours and numerous networking opportunities with journalists, business professionals and public relations and advertising practitioners worldwide.
Since its opening on Sept. 14, 1908, the Missouri School of Journalism, the world's first, has been the international leader in hands-on, real-media education, also known as the "Missouri Method." The first to offer bachelor's, master's and doctoral degrees in the field, the School is also the distinguished home of several national journalism organizations, mid-career professional programs and a thriving research agenda. Its advanced curriculum takes advantage of new technologies and practices, a tradition of innovation that expanded with the opening of RJI. The Institute is a world-class center for researching and testing new models of journalism and has been funded by $32 million from the Las Vegas-based Reynolds Foundation.
Updated: April 30, 2020
Related Stories
Expand All
Collapse All
---