New PRIME Lab Web Site to Facilitate Sharing of Media Effects Research
Columbia, Mo. (Feb. 6, 2006) — With the launch of the new PRIME Lab Web site, faculty, students and other scholars will have an easier way to share data and other information about media effects research.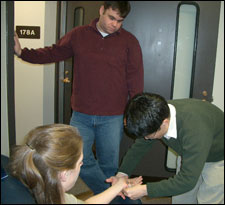 The PRIME (Psychological Research on Information and Media Effects) Lab is equipped to conduct advanced research on how different features of media messages affect attention, emotion and memory. It is one of six active labs housed in journalism and mass communication programs in the country equipped to use psychophysiological methods to study real time responses to messages.
"Our Web site is a resource for prospective students, among others, who might want to study and conduct the kind of research we can do in the PRIME Lab", said Glenn Leshner, an associate professor. Leshner co-directs the Lab with Paul Bolls, an assistant professor, and Kevin Wise, an assistant professor.
The new site contains general information about the Lab, as well as more specific information about current and past research studies about how audience members cognitively and emotionally process media. This research can be used to guide production of maximally effective campaign messages. It also provides an interface for students to get involved with the PRIME Lab. The site was developed by journalism master's students Brian Hamman, Kjerstin Thorson and Shannan Wheaton.
"Visitors to our Web site will hopefully get a sense of the intellectual energy that comes from the partnership of students and faculty engaging in exciting, cutting-edge research," noted Bolls.
The PRIME Lab's Web site is just the beginning of what the Lab will offer the Missouri School of Journalism and greater academic community. Already the Lab has played host to student-driven research, including undergraduate scholars projects, master's theses and doctoral dissertations. Research conducted in the PRIME Lab has been presented at international conferences such as the International Communication Association, Association for Education in Journalism and Mass Communication and the Society for Psychophysiological Research.
"The PRIME Lab research has already yielded exciting insights into how people process the complexity of audio/video contents," said Esther Thorson, associate dean for graduate studies. "Upcoming research will look at critical questions like how the news surrounding ads affects their impact on people, and how change in online ads influences people's attention to them."
For more information or to contact the faculty co-directors, please contact the PRIME Lab.
Updated: December 1, 2020
Related Stories
Expand All
Collapse All
---