Strategic Communication Major to Present 'Ingenuity with Bare Hands' Poster at MU Creativity Workshop
Abstract Work by Britney Lim Starts a New Conversation about the Nature of Art
By Caroline Murray
Columbia, Mo. (Oct. 4, 2013) — Britney Lim, a junior studying art direction in strategic communication at the Missouri School of Journalism, will present a poster at the upcoming creativity session hosted by the University of Missouri Faculty Creativity Workshops Committee. Lim's submission was one of the 20 accepted.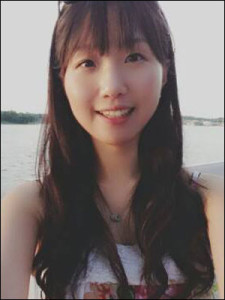 The event, "Inspired!: Facilitating Student Creativity Panels and Poster Session," will focus on stimulating student creativity. It will be held from 1-4 p.m. on Friday, Oct. 11 in the Reynolds Alumni Center. The event is free and open to the public.
The committee sought abstract submissions from faculty and students from all disciplines describing the posters they would be willing to present.
Lim's "Ingenuity with Bare Hands" focuses on visual artwork that is non-digital in nature.
"This project demonstrates an admirable sense of novelty through its dimension, bright colors and concept," she said. "3-D art strays from traditional art such as flat paintings that only care about the aesthetic beauty of the object.
"With 3-D art, I created a new conversation about what is art," Lim continued. "I extended the knowledge of 2-D art that stems from the classical age. In a way this is an experiment to understand that art can be anything and has no limitations similar to creativity."
Lim said she was inspired by nature and that she enjoys the creative process.
"When I'm working on my creativity, I'm more concerned about what I will get out of it and what others will think about it, rather than what goes into it," Lim said. "Thus, I wanted to take a risk and do what I truly enjoy."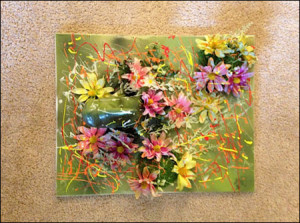 Suzanne Burgoyne, Curators' Teaching Professor of Theatre and one of Lim's instructors, said that risk is what made Lim's work stand out.
"For student posters we weren't looking for people who had spent many years acquiring artistic technique. We were looking for students with the courage to take on a challenge and try something new," Burgoyne said. "Britney's project was something very new for her. We honor her bravery as well as her creativity."
Lim said Burgoyne played an important role in the development of her project.
"She is very knowledgeable about not only about the creativity process, but also about how to interact with students," Lim said of Burgoyne. "She tries to be a part of us, dances with us and does all these activities with so much joy and energy."
Lim will discuss her project with other workshop participants during the poster session. She is an intern at Newsy.com and is from Seoul, South Korea.
"Britney's passion about art and her willingness to experiment are characteristics that will serve her well throughout her career," said Lynda Kraxberger, the School's associate dean of undergraduate studies. "We are proud of her."
Updated: July 20, 2020
Related Stories
Expand All
Collapse All
---