3 Missouri Students Pursuing Dual Degrees in Journalism and Theatre Receive Recognition at Regional Theatre Festival
By Gwen Girsdansky
Master's Student
Columbia, Mo. (Feb. 19, 2013) — The talents of three Missouri School of Journalism students pursuing dual degrees in journalism and theatre – Robert Glauz, Kelsey Kennedy and Nick Tittone – received attention at the 2013 Region V Kennedy Center American College Theatre Festival 45, held recently at the University of Nebraska at Lincoln.
Junior Robert Glauz participated in the Irene Ryan Acting Scholarship Competition, had a role as "Man 2" in the cast of the one-act play "MacNolia." The play was written by several graduate students in the University of Missouri Department of Theatre and tells the story of MacNolia Cox Montiere, the first African American to compete in the National Spelling Bee. The play follows MacNolia's life after her loss at the bee, including her tumultuous relationship with her husband John and the birth and death of her son Darrell. Glauz also received callbacks for the summer at professional companies such as the Great River Shakespeare Festival, the Black Hills Playhouse, Straw Hat Players and the Crane River Theater Company.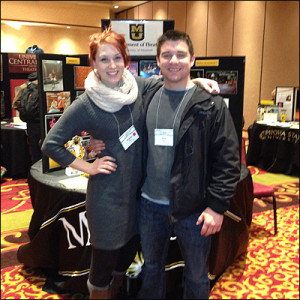 Kelsey Kennedy had her costume designs for MU's production of "Medea" adjudicated and received a professional response. She also assisted with the costume crew for "The Lost Slipper," which was performed both at MU and at the conference as an invited production. Kennedy graduated in December with bachelor's degrees in magazine journalism and performance theatre as well as minors in religious studies and sociology. She also earned a multicultural certificate.
Strategic communication major Nick Tittone acted with MU theatre major Maddie Byrne, a nominee for the Irene Ryan Acting Competition. They made it through the first regional cut, which reduced the competition from 346 couples to 64. Tittone and Bryne progressed to the final round of 16 couples, which was the first time in eight years that MU acting students progressed to the finals, said David Crespy, MU professor of playwriting, acting and dramatic literature.
Crespy said that the theatre and journalism fields complement each other. Journalism teaches the importance of deadlines, and theatre encourages risk taking; both qualities are essential for performers.
"The J-School brings A-list competitors, and the theatre benefits from that," Crespy said. "The journalism students are immensely talented and incredibly hardworking. They are going to make it."
Glauz said that he might pursue a master's in fine arts or enroll in an apprenticeship program after graduation. He hopes to act full time in Chicago or New York. Glauz said the skills he learned at the Missouri School of Journalism will be essential in making those dreams a reality.
"I'm studying strat comm for the skills," he said. "It's so important to develop a wide range of skills, to be able to do whatever casting directors need. Having experience in PR or design could easily be what gets you cast over another actor, especially in today's economy."
Tittone would like to move to Los Angeles to find work as a film actor after graduation. While he is waiting for his big break, he may use his strategic communication skills at an advertising agency.
"I really enjoy getting a nice mix of course material – one day I'm an advertiser and the next I'm an actor," Tittone said. "It's really cool because basically being an actor is all about advertising yourself, and I really enjoy it."
The Missouri School of Journalism provided support for MU's ongoing KCACTF participation.
"This help has led to us winning regional and national recognition in acting, directing, playwriting, theatre criticism, dramaturgy, and theatre design and technology," Crespy said.
Updated: July 13, 2020
Related Stories
Expand All
Collapse All
---