A Play Written by Journalism Senior Jessica Huang Performed at the Kennedy Center in Washington, D.C.
Columbia, Mo. (June 2, 2009) — A play written by Missouri School of Journalism magazine journalism senior Jessica Huang recently was selected as a finalist for the Kennedy Center American College Theatre Festival in Washington, D.C., where it was performed in the region five, 10-minute play category. This is a major achievement for Huang and for the Missouri Playwrights Workshop, a project of the University of Missouri's Department of Theatre, and the MU Center for Literary Arts. Huang graduated in May.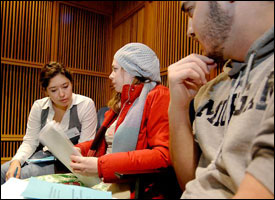 Huang's interest in playwriting began in her freshman year, when she acted in the campus performance of "Witches Quorum." As a sophomore, Huang began to attend the Missouri Playwrights Workshop, a weekly meeting for those interested in stage and screen plays. That year, she wrote her first full-length play, "The Butterfly Net," which is about a girl who wears wings that her mother made her. "The Butterfly Net" earned Huang the Francis W. Kerr Writing Prize for first place in drama, which is awarded by MU's Creative Writing Program.
"Windblown," a play that offers aspects magical realism, soon followed. Noted David Crespy, the MU professor who directs the Missouri Playwrights Workshop and has supervised Huang in an independent study course: "One of the qualities that makes Jessica's plays so wonderful are that they are mysterious. She never writes more than what you need to know to try to discover what's going, and as an audience member, you're forced to work a bit harder than in a play where the playwright explains everything away."
In the fall of 2008, Crespy encouraged Huang to submit a 10-minute play to the Kennedy Center American College Theater Festival, a program that involves 18,000 students from colleges and universities nationwide. Within it, 600 theatre departments across America offer students the opportunity to showcase their plays. Huang penned "Mermaids," a play about life and death as seen through a couple named Don and Cecilia. "The magic is about what this young couple, Don and Cecilia, want from each other and what it is they say in order to get what they want," Crespy said. "Clearly something is wrong about Cecilia; we discover that pretty quickly. But we never know exactly what, except that it's very bad, so bad that they can't talk about it directly. And so they talk about everything else, about something fantastical—mermaids."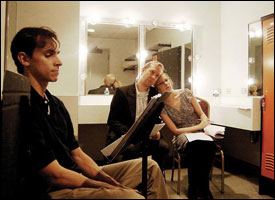 In January, KCACTF judges selected "Mermaids" as one of 84 ten-minute stage-qualifying plays to be performed at a festival in Lawrence, Kan. In March, Huang learned that "Mermaids" had qualified her for the last round of region five performances at the Kennedy Center in Washington, D.C. in April. Her play and seven others were presented as a staged reading with hired actors in the Kennedy Center Theatre Lab.
Although the play didn't earn first place, Huang said that the best moment of the trip was the hour-long rehearsal that took place just before her play was performed.
"I was in the tiniest of dressing rooms with a professor from Texas A&M who directed the play and three professional actors from D.C. I loved answering their questions and seeing them analyze my play," Huang said. "They read the words the way they sounded in my brain. It was amazing."
Crespy said that Huang's work has the components necessary for success. "At the end of the play we are haunted by Don and Cecilia's situation and mystery of what the mermaids mean. And that's what makes her play so wonderful."
Updated: May 4, 2020
Related Stories
Expand All
Collapse All
---