Meet New J-Students: Meredith Wright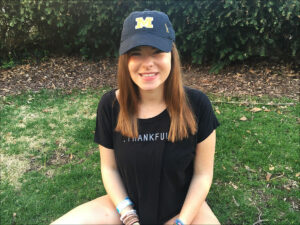 By Savannah Borgsmiller
Incoming J-School student Meredith Wright was awarded a $1,000 Dow Jones News Fund Scholarship this past spring for her journalistic excellence covering Suicide Awareness Week at Kirkwood High School in St. Louis.
Wright won the Dow Jones scholarship after covering a talk by Gary Behrman, a representative from the Communities Healing Adolescent Depression and Suicide Coalition. After sending in her story to a judge panel, Wright was chosen from among her peers to receive the scholarship money.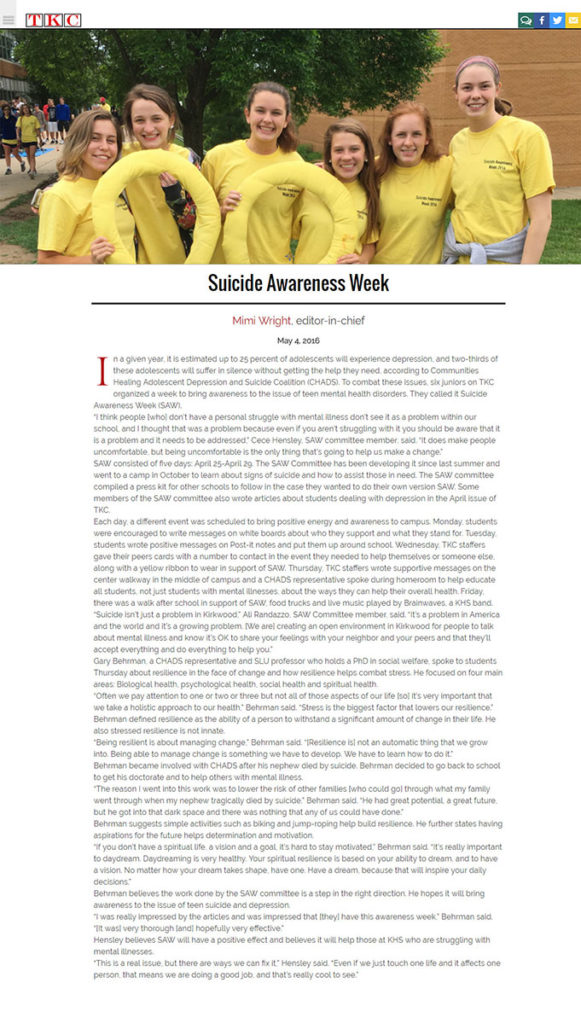 "Normally, I got a week to write and edit the stories that I created for the Kirkwood Call," Wright says. "But, for this story I had to write it in under 24 hours. I had never experienced that short of a deadline before. So, it was interesting to write, and I really enjoyed the challenge of it. Of course, it was also awesome to find out that I was awarded the $1,000, because it really helps out with college costs."
Wright has a lot of reporting experience due to her time as a staff member. During her three years on the Kirkwood Call, Wright held a number of leadership positions. Starting as a feature writer her sophomore year, Wright then graduated to the position of in-depth editor, and she eventually went on to become the editor in chief her final year on staff.
Wright showed an interest early on in her journalistic career for in-depth reporting. While Wright liked her time as a feature writer, she appreciated how the longer form allowed her to capture the whole picture as opposed to a mere snapshot of a particular subject matter.
"I was technically a feature writer, but I covered a lot of in-depth stories my sophomore year because I loved it," Wright says. "Then, when I was the in-depth editor, that was when I really took control of the section. I went into some pretty controversial subjects."
One particular story that Wright took on as an in-depth reporter was the racial disparity that existed within her high school as well as the Kirkwood community.
"We have a large disparity between black and white students at my high school," Wright says. "This disparity existed in both a physical way and an academic way. This divide was very evident, and so I felt like I needed to cover it."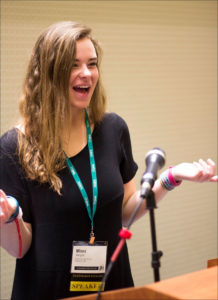 Wright's in-depth pieces always seemed to attract controversial subject matter, but she explained that her fascination with in-depth material came from its ability to produce authentic emotion.
"I love stories about people," Wright says. "And, I think in-depth stories allow readers to see the whole picture. In-depth storytelling helps you demonstrate how so many people can be affected by one topic. Allowing myself to delve into those deeper topics helped provide real emotion and real people instead of just surface level content."
Moving forward in her career as a journalist, Wright is going to be pursuing magazine design during her time at the J-School. She is excited to share her love of journalism with her fellow peers.
"I am looking most forward to being surrounded by people who are just as passionate about journalism as I am," Wright says.
Wright dreams of moving on from her undergraduate education to become a writer and designer for the New York Times Magazine. She is excited to see how the skills she obtains from the No. 1 journalism school will help to propel her in the direction of this dream. In the meantime, Wright is ready to bring her passion for authentic storytelling to J-School, and she looks forward to growing as a journalist.
Updated: September 30, 2020
Related Stories
Expand All
Collapse All
---