Alumni Profile: Libby Wall
Columbia, Mo. (Feb. 26, 2018) — Every student can relate to feeling nervous before beginning an internship. You've prepared as much as possible, but you don't really know what to expect until you get there. Strategic communication alumna Libby Wall used those nerves to her advantage before beginning her internship with General Motors last summer.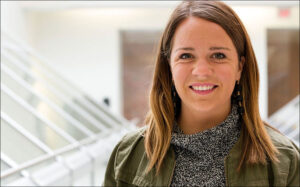 "As I was preparing for the internship, I was really nervous about everything," Wall said. "GM is such a large company and I thought as an intern it would be easy for me to get lost in the shuffle. I realized that doubting myself and having so many fears was just going to hold me back. This may sound cheesy, but I think a large key to success is not being afraid to fail."
This mindset combined with her vast strategic communication skill set helped her to thrive during the internship. Wall worked on the internal communications team and helped them create content for the company news site, company emails, internal videos, and new employee social media. She also planned and executed a networking event that created brand awareness and garnered app downloads for Maven, GM's car sharing brand.
"This internship was much more than I expected. It's incredible how much hands-on work I was able to do and contribute to in my short time at GM," Wall said. "I grew both professionally and personally, and it helped me realize how well-prepared and equipped I am for the real world."
Spending three months at GM not only helped Wall sharpen her communication skills, but she also was able to explore the many opportunities the company has to offer its employees.
"GM is more than just a car company. There are possibilities to work in advanced technology, finance, manufacturing, product development and brand communications. The opportunities seemed limitless," Wall said.
At the end of the summer, Wall received an offer for a full-time position at GM. She accepted and began work as a Communications TRACK employee on Jan. 22 of this year after graduating from the Missouri School of Journalism in December.
TRACK stands for Technical Rotation and Career Knowledge, a three-year rotational program that consists of three 12-month assignments. After the program is finished, Wall will have experience in consumer brand and technology, manufacturing communications and corporate communications.
"My job is off to a great start," Wall said. "The first few days are always a little rocky, from getting my laptop set up to doing introductions with everyone on the team. If there's one thing I've realized, it's that what we learn in school does translate. One of my greatest takeaways with nearly 14 days under my belt is to be confident. Mizzou provides us with the tools and resources to thrive in a work environment. It's easy to fade in the background, agree with everyone else or just keep your head down and get your work done, but that's not why a company hires you. Yes, it's only been a couple weeks. Yes, I'm still figuring it all out and I probably still will be three months down the road, but I'm excited for all the challenges and opportunities to come."
Updated: October 28, 2020
Related Stories
Expand All
Collapse All
---