Life Stories: Carl Corbin, BJ '36
A Member of the "Reveille Seven" Who Challenged Sen. Huey Long over Free Speech Issues in the 1930s
In 1935 Dean Frank L. Martin allowed six journalism students expelled from Louisiana State University to enroll at the Missouri School of Journalism. The students were expelled for refusing to allow Sen. Huey Long to censor their newspaper because of a letter to the editor that was critical of Long. Carl Corbin, BJ '36, was one of seven LSU newspaper staff members who became known as the "Reveille Seven." His death on Aug. 19 highlights the importance of free speech: then, now and always.
By Josh Naquin
Staff Writer, The Daily LSU Reveille
Published: Aug. 23, 2011
When journalist Carl Corbin died in New Orleans on Friday at the age of 96, he didn't just leave behind family and friends — he left a legacy.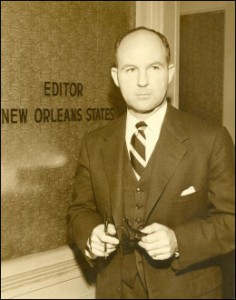 In 1934, Corbin and six other Reveille staff members and supporters were immersed in controversy when the paper planned to publish a letter scrutinizing then-Senator Huey P. Long.
Although the letter in question didn't mention Long by name and was never published, Long worked to censor The Reveille to ensure the paper would never publish a dissenting opinion of him.
Three members of the staff resigned from the paper rather than operate under a system which stifled their free speech. They were expelled, along with four other journalism students who refused to rescind their signature on a petition that condemned the paper's censorship.
The entire group soon became known as the "Reveille Seven."
Upon expulsion from the University, Corbin, as well as the other six of the "Reveille Seven," attended the University of Missouri. There Corbin graduated with a bachelor's degree in journalism.
In 1941, the LSU Board of Supervisors unanimously voted to adopt a resolution that acknowledged the "Reveille Seven's" actions as "courageous" and cleared any mention of their dismissal from the official record.
The six surviving members of the expelled group, which at the time included Corbin, were welcomed back to campus half a century later and shared their experiences.
"We felt like we had to have them back after what happened to them," said James Wharton, the University's chancellor when the Seven returned to campus in 1984.
The "Reveille Seven" were honored again in 1996 when the group was inducted into the Manship School of Mass Communication Hall of Fame.
"Being inducted was one of the highlights of his life," said Corbin's son, Carl McArn "Mac" Corbin Jr., who attended the induction ceremony with his father.
After the "Reveille Seven" incident, Corbin worked as a reporter for the Times-Picayune in New Orleans for five years before enlisting in the Army in 1941.
He rose to the rank of major in 1944 and was operations officer of the division's 40th Tank Battalion, an outfit which was involved in the Battle of the Bulge. Corbin was awarded a Bronze Star for his service.
He returned to the United States in 1945 and continued his career in journalism, holding positions as managing editor of The Hattiesburg American and editor of The New Orleans States.
In 1948, Corbin married Eleanor Nicholson. He is survived by a two sons, two grandchildren and two great-grandchildren.
In addition to his journalistic pursuits, Corbin had a dedication to being fit and healthy.
"My father was passionate about exercise and physical fitness," said Corbin Jr.
Corbin ran in Audubon Park in New Orleans regularly until bad joints slowed him down at 86 years old. He continued to walk, however, and had a personal trainer until he suffered a stroke in January of this year.
"He earned the nickname 'coach' after teaching a fitness class at the YMCA for 15 years," Corbin Jr. said.
According to Corbin Jr., his father stood by the actions of The "Reveille Seven" until his death.
"My father was passionate about journalism and passionate about freedom of speech," Corbin Jr. said.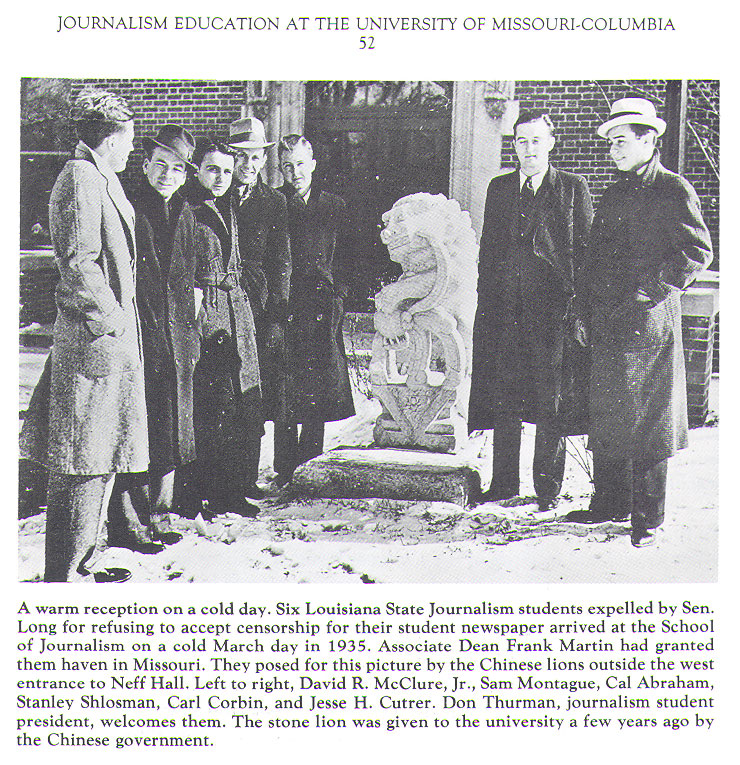 Photo taken from English, E. (1988). Journalism Education at the University of Missouri-Columbia (p. 52).
Marceline, Mo.: Walsworth Publishing.
Updated: June 3, 2020
Related Stories
Expand All
Collapse All
---